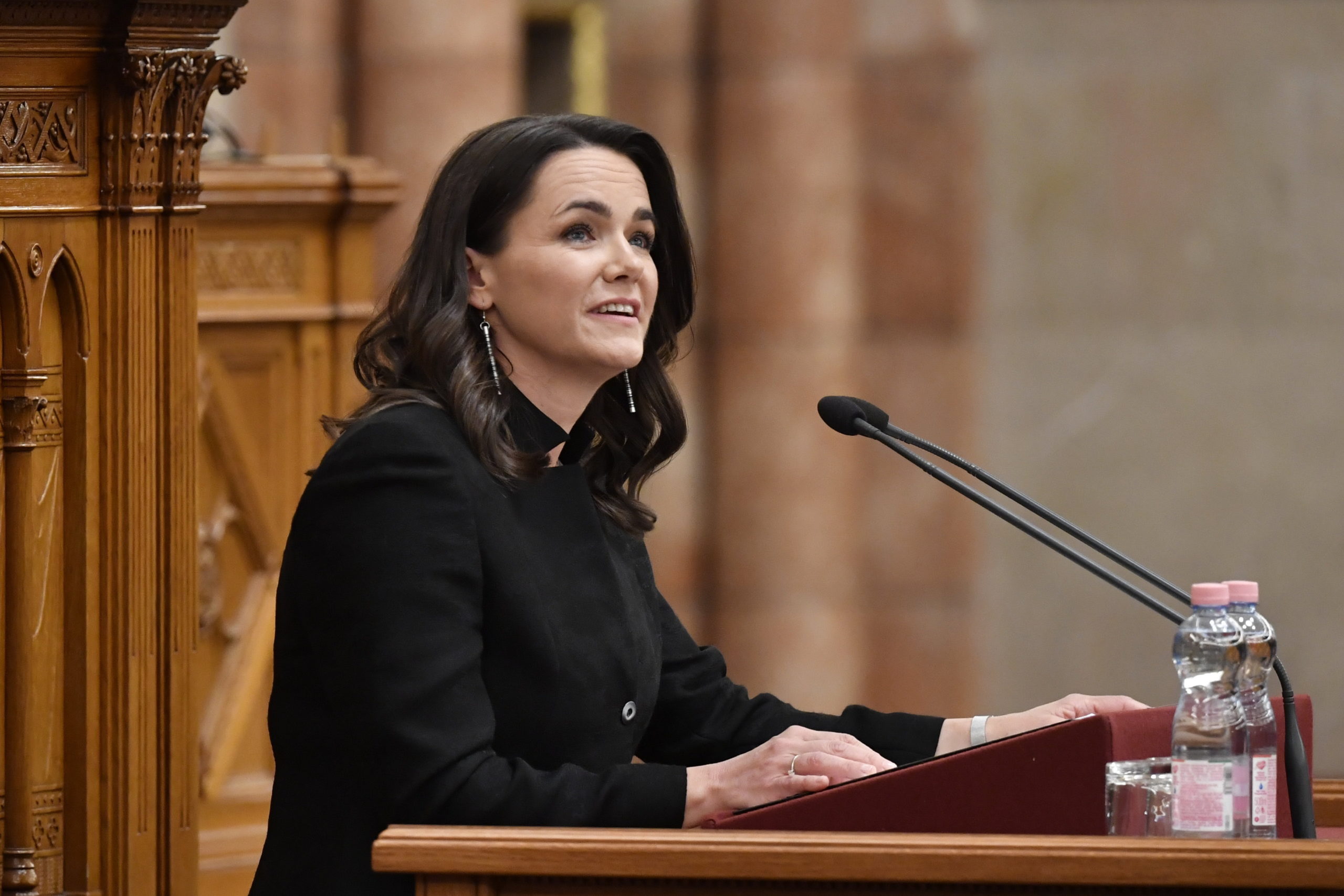 Parliament elects Katalin Novak as President
On Thursday, lawmakers in Hungary's National Assembly voted to elect Katalin Novak as the country's next president. In her introductory speech, Ms Novak underlined that, as head of state, she will lead for peace.
The Hungarian Parliament elected Katalin Novak President of the Republic on Thursday. The former minister without portfolio in charge of family affairs received 137 votes in a secret ballot, which required a two-thirds majority. Economist Peter Rona, the candidate of the opposition parliamentary groups, received 51 votes.
Ms Novak assumes office on 10 May, as the sixth President of Hungary since the country's transition to democracy
In her speech before lawmakers, while still a candidate for the presidential office, Ms Novak expressed her will to stand for peace in the role of president as well.
She will follow and enforce the Fundamental Law of Hungary and will work to safeguard and uphold the constitutional order instead of dismantling it, she stated.
Ms Novak called the upcoming parliamentary elections fateful and expressed her confidence in voters keeping the national interest and the future of children in focus when casting their ballots on 3 April.
She said she knows where she came from, what is expected of her and is prepared for the challenging task lying ahead of her. She must represent all Hungarians, she emphasized.
Her task will be to lead compatriots to heights where the Hungarians' sense of belonging together is self-evident, Katalin Novak said. Drawing strength from her faith in order to understand others, she is not preparing for a touring of the country, but will simply be where she belongs, among those to whom she belongs: with Hungarians, she said.
We can always go on or start again. We can build and we can strengthen what is ours. As long as we have free will, we cannot be subjugated. This is the basis of sovereignty and the cradle of sovereignty is the family,
she said. She will never give up on sovereignty when it comes to the nation, she emphasized, adding that she can only relinquish some of her personal sovereignty in the family for the good of her husband, Istvan Veres.
Not for being a woman, but thanks to being a woman she wants to be a good president of the country, she said.
She is preparing to act and she is ready to take on her shoulders all the burdens the office of the president will entail, she said.
As a mother and wife, she strives for peace, understanding and security, and as president she will equally strive for peace, she added.
Katalin Novak said she belongs to a generation for whom national independence was ready-made, and will not allow "Russian roulette to be played" with the independence the country gained so dearly.
"We in our forties feeling patriotism for our nation look at the world through Hungarian eyes from Hungarian land," she said and went on to point out that this generation did not have to experience what it was like to live under Russian occupation but had the opportunity to understand what it is like to be part of Europe.
Many of her peers have studied and lived in Western Europe, she said, pointing out that they do not want to copy that world but there are good things that could be adopted.
"Hungary will never be Switzerland, and for us Lake Balaton is the Riviera, Kekes is the highest peak, water is our mineral treasure, educated people are our natural assets, Hungarian is our secret language, Bartok and Kodaly are our brands in music, and our neighbours are given. We belong to Europe, and Europe belongs to us and we cannot and do not want to change that," she said.
Katalin Novak called the war launched by Russia "indefensible and inexplicable". The country was just beginning to return to the security and freedom of its pre-pandemic life when another destructive virus wreaked havoc: war has been raging in a country neighbouring Hungary for 14 days.
She said there is nothing worse than a war that sets ablaze everything that people value; an attack on tranquility, the security of everyday life, today's predictability and tomorrow's serenity. Hungarians want peace and women want to win peace not war, because in peace we can plan, build, prosper, and smile at each other, she said. She thanked all those who extend help to those in need.
Katalin Novak said that last week as the goodwill ambassador of the Charity Service of the Hungarian Reformed Church, she visited Transcarpathia with three bishops to assure all ethnic Hungarians who decide to stay in Ukraine that they are as important as those who have left and as every refugee fleeing Ukraine.
Quoting from the National Creed, she also spoke about the need for spiritual and intellectual reinvigoration.
Katalin Novak spoke about key decisions in her life: her marriage, having children, choosing career pathways in economics, diplomacy and public life. She thanked former Foreign Minister Janos Martonyi for teaching her the "art of classic diplomacy." She also thanked Zoltan Balog, the former Minister of Human Resources for giving her professional opportunity. She called it a gift that she had been responsible at government level for ensuring the future of families, and she was grateful for the 200 thousand children for whose birth the ministry gave extra help. Looking beyond the country's borders, she continued, more than one million Hungarian children had been born in the course of ten years. "Mr Prime Minister, I thank you for having been able to participate in nation building," she said.
The then candidate for head of state said that she still considers Szeged her hometown, adding that she had lived in district XI of Budapest since the age of 18. She recalled the story of her grandparents and said that what she and her brother had learned from their parents was honesty and honour, and the ability to get back on one's feet.
She thanked outgoing President Janos Ader and his wife Anita Herczegh for sharing the experience of the last ten years. He also thanked House Speaker Laszlo Kover and PM Oban's Office Chief, Gergely Gulyas, for their +friendship.
She added also that her first trip would be home to her family and that she would like to visit Warsaw as soon as possible.
POLITICS
Tags:
Hungary
,
katalin novak
,
president