PM Orban congratulates school-leavers and graduates
Hungarian Prime Minister Viktor Orban congratulated both school-leavers and graduates, wishing them success, letters obtained by the Hungarian daily Magyar Nemzet reveal.
WORLD
JUNE 27. 2022 17:01
"Please accept my congratulations on the successful completion of your degree! We have been through a difficult period, which has also shaped your years in higher education.
The restrictions caused by the coronavirus epidemic and digital education required great discipline from both teachers and students. Thank you for your perseverance during the pandemic. I am confident that you will be able to put the knowledge you have acquired to good use! I hope you will enjoy your work. Congratulations on your diploma!"
PM Orban wrote to graduates.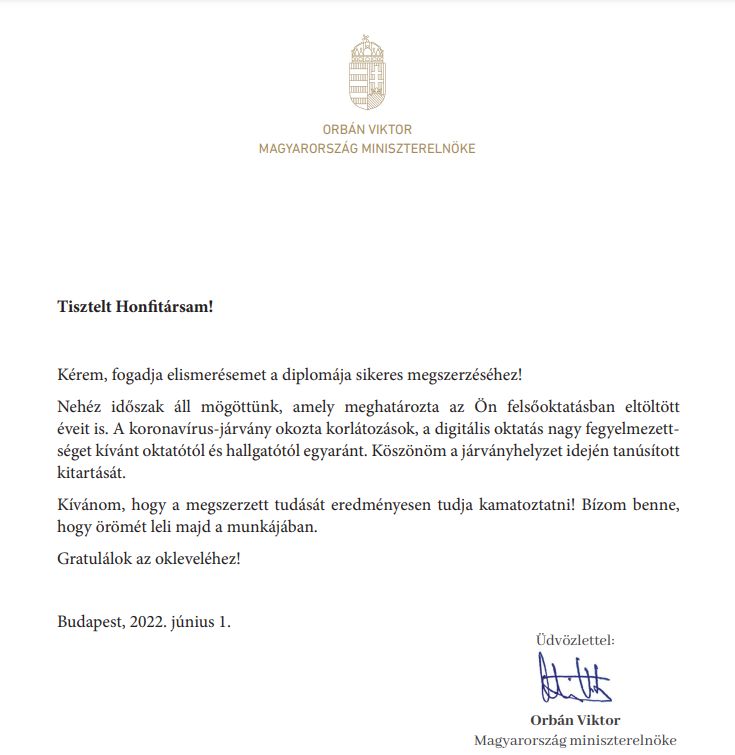 The premier also sent a congratulatory letter to the students who had received their school-leaving certificates, thanking them on behalf of the Hungarian government for their understanding attitude in recent years.
"After the school-leaving exams, I wish you success and the realisation of your plans, whether you decide to continue your studies or to work. I wish that you will never feel compelled to give up your ideas about the future and will fulfil your plans at home in Hungary! "
the premier wrote to school-leavers.
A significant accomplishment
It has become a tradition in Hungary that Prime Minister Viktor Orban writes a letter to both secondary school and tertiary education graduates, Zsolt Nyitrai, the PM's chief advisor told Hungarian daily Magyar Nemzet. Mr Nyitrai said these letters are received along with the respective school-leaving certificate or higher education diploma. The prime minister's letter was sent to nearly 1,200 institutions, about 72,000 secondary school graduates and to 60 upper education institutions to some 53,000 graduates.
"The prime minister gives school-leavers and graduates the gift of attention. When PM Orban first wrote to graduates, we were in the middle of the pandemic, and human connections were severely curtailed."
The prime minister considers it important even after the pandemic to greet the students after such an accomplishment, and wish them success and achievements for the years to come, the PM's chief advisor said.
WORLD
Tags:
graduates
,
Hungary
,
viktor orban