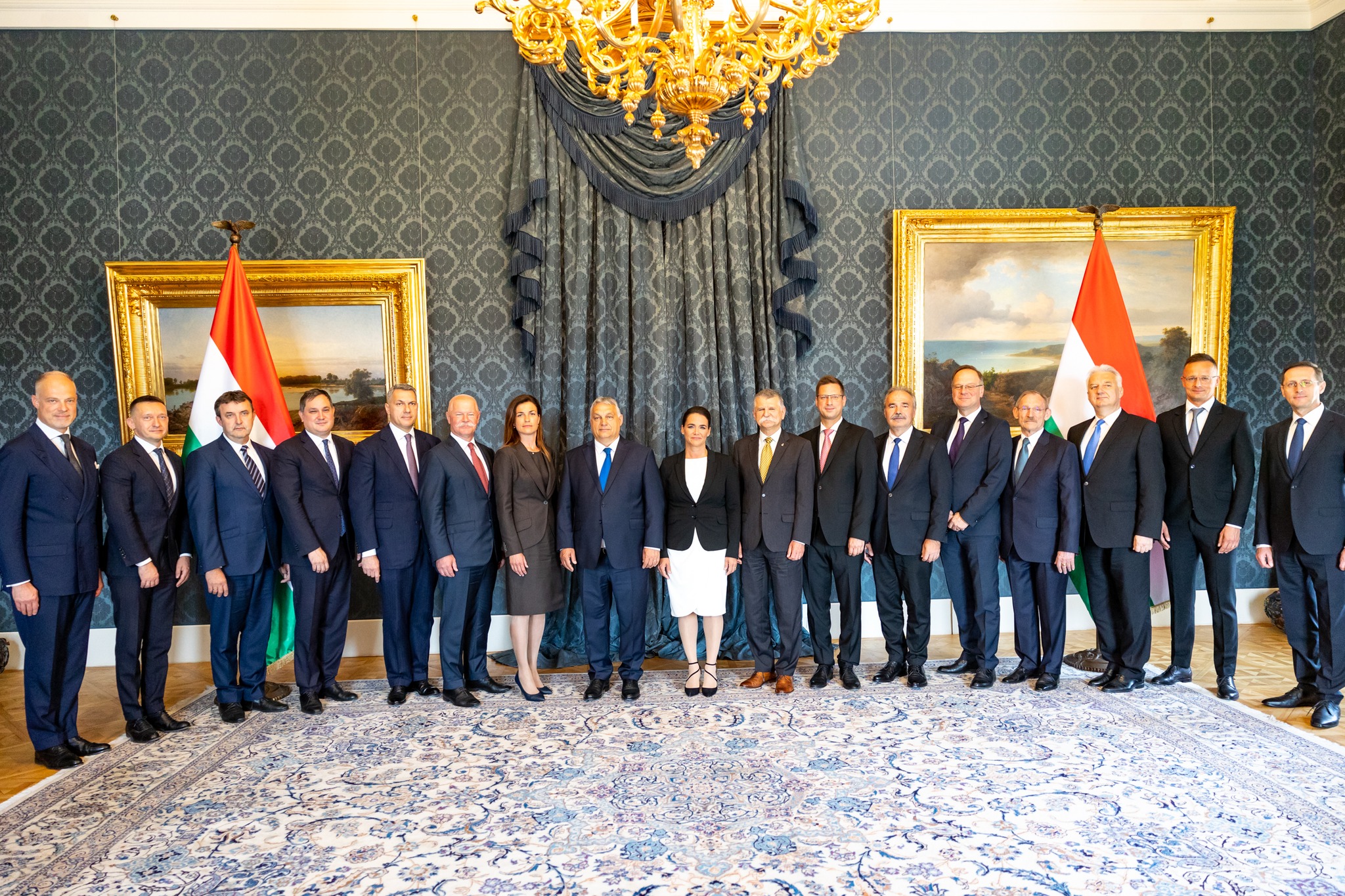 PM Orban: government starts work with crisis-resistant, clear concept of future
The fifth Orban government commenced its work as the new ministers took their oaths of office before parliament. PM Viktor Orban told the session that he expected government members to retain the trust they have earned, and to live up to the trust they were granted in advance.
"We've barely just recovered from the coronavirus and now there is a war underway in a neighbouring country, and we cannot expect help from Brussels," Hungarian PM Viktor Orban, now forming his fifth government, said at the beginning of his speech. Mr Orban believes there has never been so much uncertainty regarding the future.
This decade will be a decade of wars and dangers. We are experiencing refugee flows, inflation and unprecedented energy price hikes, and we are threatened by a shift in the global order. The severe food shortages could trigger new wars and a mass migration wave larger than the one witnessed in 2015. Today, the EU is not a brilliantly governed organisation. There are confused ideologies and unreasonable decisions. The European Union is but an organisation in a great shape,
the premier said, adding that what we need now is a government that "has real guts." Besides, businesses must be strengthened, the Hungarian economy must be kept on a path of growth, and families must be protected, Viktor Orban underlined, pointing out that Justice Minister Judit Varga would have a veto right over all ministry proposals. PM Orban said he expects her to continue to represent Hungary in the EU.
Talking about Interior Minister Sandor Pinter, Mr Orban stressed that the politician continues to enjoy his unconditional trust. "Crime has decreased and the age of police jokes is over. Mr Pinter has organised Hungary's public work scheme and he also proved his fitness for the job by leading the operative group in charge of health-related issues during the pandemic. Today, his ministry is truly a ministry of internal affairs, the premier added.
The Finance Ministry will continue to be headed by Mihaly Varga. Orban Viktor said that Hungary was among the first countries to recover from the coronavirus pandemic. Due to a forward-looking rigorous approach and a maintained balance, Hungary was even able to pass others in the bend while surviving the consequences of the virus, he said, referring to the fact that the country reached a higher GDP based on purchasing power parity than Greece and Portugal. "We expect the same from Mihaly Varga. His task will be, even at the expense of tough decisions, if need be, to maintain the balance between the budget and economic growth, Mr Orban said.
Janos Csak will be Minister of Culture and Innovation in the new government. "In fact, his ministry should be called the ministry of the future," PM Orban said, recalling that Hungary spends the most on families and culture in proportion to its population.
Zsolt Semjen will be responsible for representing the interests of Hungarians as a whole, Mr Orban said. "As deputy prime minister, he will continue to be in charge of affairs regarding our historical churches and those affecting Hungarian communities living in the Carpathian basin, he added.
Janos Lazar will be at the helm of the Ministry of Construction and Investment. Mr Lazar was given a country-building task, which will not be easy, as this area used to be completely fragmented, Mr Orban said. His responsibilities will include the efficient use of public resources, the protection of our architectural heritage and the preservation "good taste" in public construction projects.
Laszlo Palkovics will be responsible for technology and industry-related tasks in the fifth Orban government. The industry and the energy sector are facing a major transformation, and Mr Palkovics must continue the transformation commenced in the past four years and address the uncertain energy situation, Pm Orban said.
According to the premier, Istvan Nagy, who will be in charge of agricultural affairs, has made great strides in agriculture in recent years. Skyrocketing grain prices are a boon for Hungarian agriculture, he said, adding that
"Hungarian farmers can finally overcome the disadvantage they suffered under communism."
Mr Orban added that a global food crisis is imminent, the effects of which Hungary's new agriculture minister will have to counteract, noting that the Hungarian agricultural sector's foreign trade position will have to be strengthened.
Tibor Navracsics is an old warrior, PM Orban said. He has considerable experience in domestic politics, EU and public administration, and his task will therefore be to promote regional development and the efficient utilisation of EU funds, the premier continued, recalling that with the help of Mr Navracsics the government has already managed to restructure the Hungarian state once. As to the future role of Mr Navracsics, Mr Orban said that he stood the best chance of ensuring that trust between Hungarian MEPs and Brussels bureaucrats would not become "consumed."
According to Mr Orban, keeping in touch with citizens is a decisive task in a democracy, so he asked Antal Rogan, the head of the Prime Minister's Cabinet Office, to solve this task.
"In a decade of war, it is important that everyone is clear about what they are doing. Defending sovereignty will be primarily the task of Antal Rogan,"
Mr Orban said.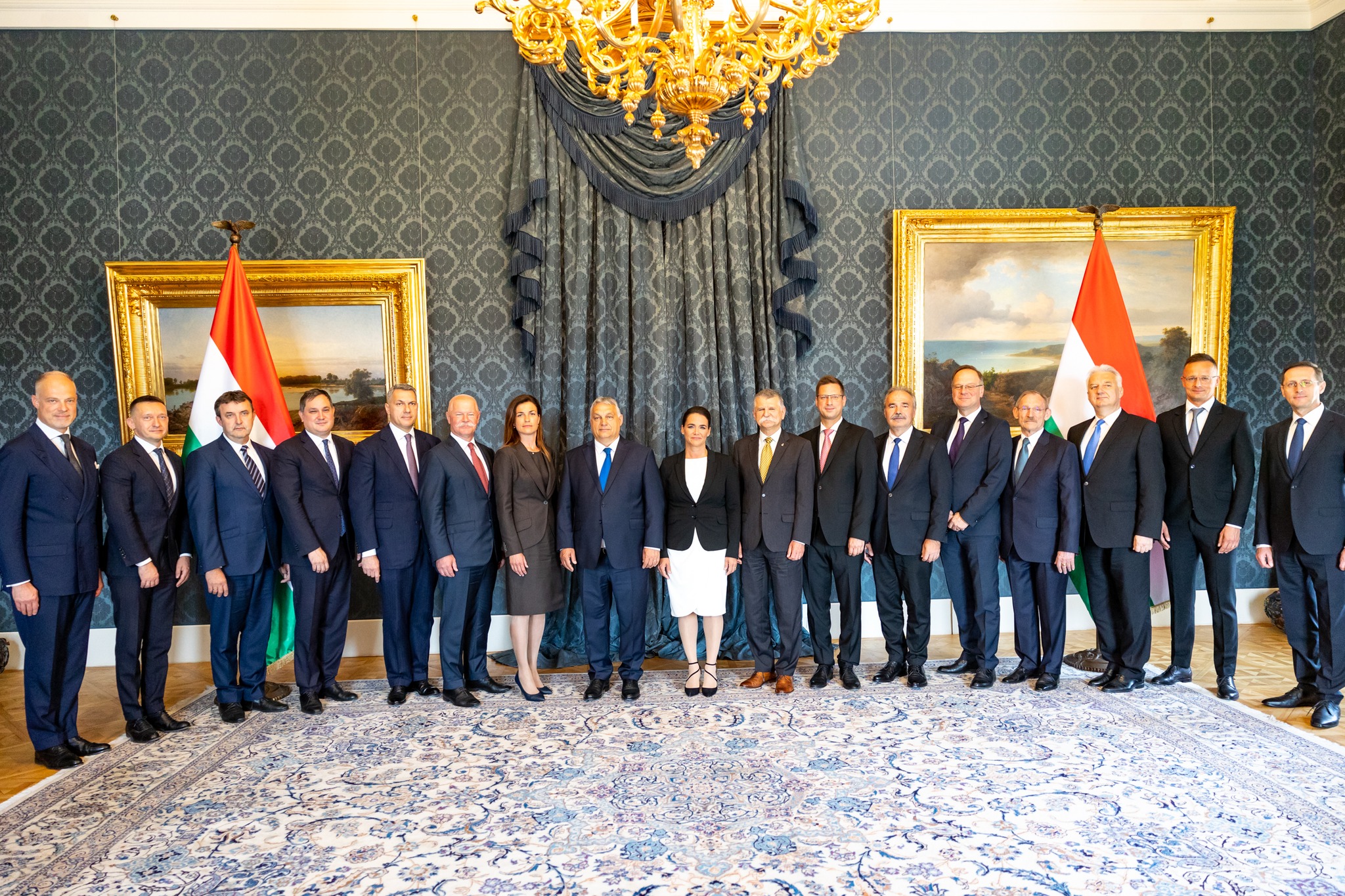 Kristof Szalay-Bobrovniczky will head the Ministry of Defence. PM Orban stressed that the war in Ukraine proves how irresponsible it was throughout Europe to push the army and the issue of national defence to the background, and sometimes even to question their very existence. At the same time, Hungary has launched some successful military developments, and these will be continued, because "this is more important now than at any time in the past thirty years," he said.
The Ministry of Economic Development will be headed by Marton Nagy who, according to the PM, "can survive even on ice." As the European economy is in big trouble, we need new, unorthodox solutions," Mr Orban said, adding that "these are what Mr Marton must come up with."
Peter Szijjarto will continue at the helm of the Foreign Ministry. Mr Orban called on him to continue to represent Hungarian interests tirelessly, and to seek out new trade opportunities.
"Play every instrument, be wise as a serpent, and gentle as a dove,"
the premier said, adding that in the future Mr Szijjarto will also be in charge of the investment aimed at expanding the Paks nuclear power plant. This is a task that requires several people, but Mr Szijjarto has already proved that he is up to it, Mr Orban said.
"Old men to the battle, young men to the council," PM Orban said, adding that Gergely Gulyas, the minister heading the Prime Minister's Office, is refusing to grow old. His job will be to coordinate and synchronise the day-to-day work of all the ministries. According to PM Orban, this work will never end.
"Gergely Gulyas will also be the government's lightning rod, so he should boldly represent the government's position at home and abroad,"
PM Orban said, adding that Hungary will have a "strong and capable government." Concluding his speech, PM Orban said his government humbly undertakes to defend Hungarian sovereignty.
POLITICS
Tags:
government
,
Hungary
,
ministers
,
prime minister