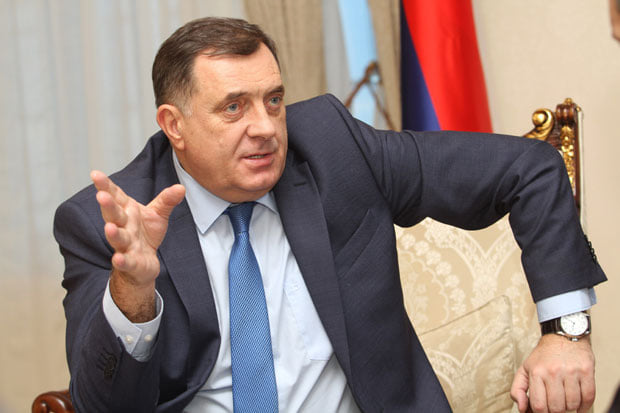 PM Orban is defender of Christianity, Bosnian Serb politician says
Milorad Dodik fully agrees with Hungary's migration policy. The Serbian member of the Presidency of Bosnia and Herzegovina expressed his admiration of Viktor Orban for championing the interests of the Hungarians, even if it means confrontation with Brussels. Christianity is under threat by migrants in Europe and must be protected, the Serbian politician said.
Immigration is not the answer for the future
Milorad Dodik has written a letter to the Hungarian prime minister. The Serbian member of the Presidency of Bosnia and Herzegovina congratulated PM Orban for his victory in the parliamentary elections on 3 April.
"PM Orban's victory is very good not only for the Hungarians but for the Serbs living in Republika Sprska," Mr Dodik wrote.
The Serbian politician also wrote that he agreed with the positions represented by PM Orban, by which he protects the interests of Hungarians. Viktor Orban banned Middle Eastern migrants from going to Hungary in the middle of the past decade, Mr Dodik underlined, adding that it was a key move for the future of Christianity, the Bosnian news portal klix.ba writes.
"I agree with you that by endorsing and supporting migration, Europe is destroying its future based on Christian values and principles. Hungary has recognised that the renewal of the nation requires an increase in the birth rate, not the relocation of non-Christian people having a different cultural background, from other parts of the world. The Bosnian Serb Republic recognises the values represented by Hungary and regards them as its own, within its own borders and possibilities, of course," the Bosnian Serb politician underlined.
They remain neutral in Russia-Ukraine war
In his letter, Milorad Dodik also referred to the war in Ukraine stating that Bosnia had not taken a position in favour of Kyiv. The Serbian member of the State Presidency also expressed his appreciation for the Hungarian premier's insistence that Budapest supports the decisions of international organisations only as long as they do not harm the interests of the Hungarians.
"We admire your courage and determination to ensure that Hungary supports only those measures that do not harm its national interests and the future of the Hungarians," Mr Dodik wrote in his letter to Viktor Orban.
Sarajevo has not imposed sanctions against Russia thanks to the Bosnian Serb Republic, nor has it sided with the Ukrainians in the war, even though "we empathise with the suffering of the Ukrainian people," Mr Dodik wrote. The Serbian politician added that they believe that the wisest and most humane course of action is to remain neutral and choose peace and dialogue.
Milorad Dodik concluded his letter noting that he is pleased that in his speech in the Parliament following his re-election, Mr Orban spoke of Serbs as friends.