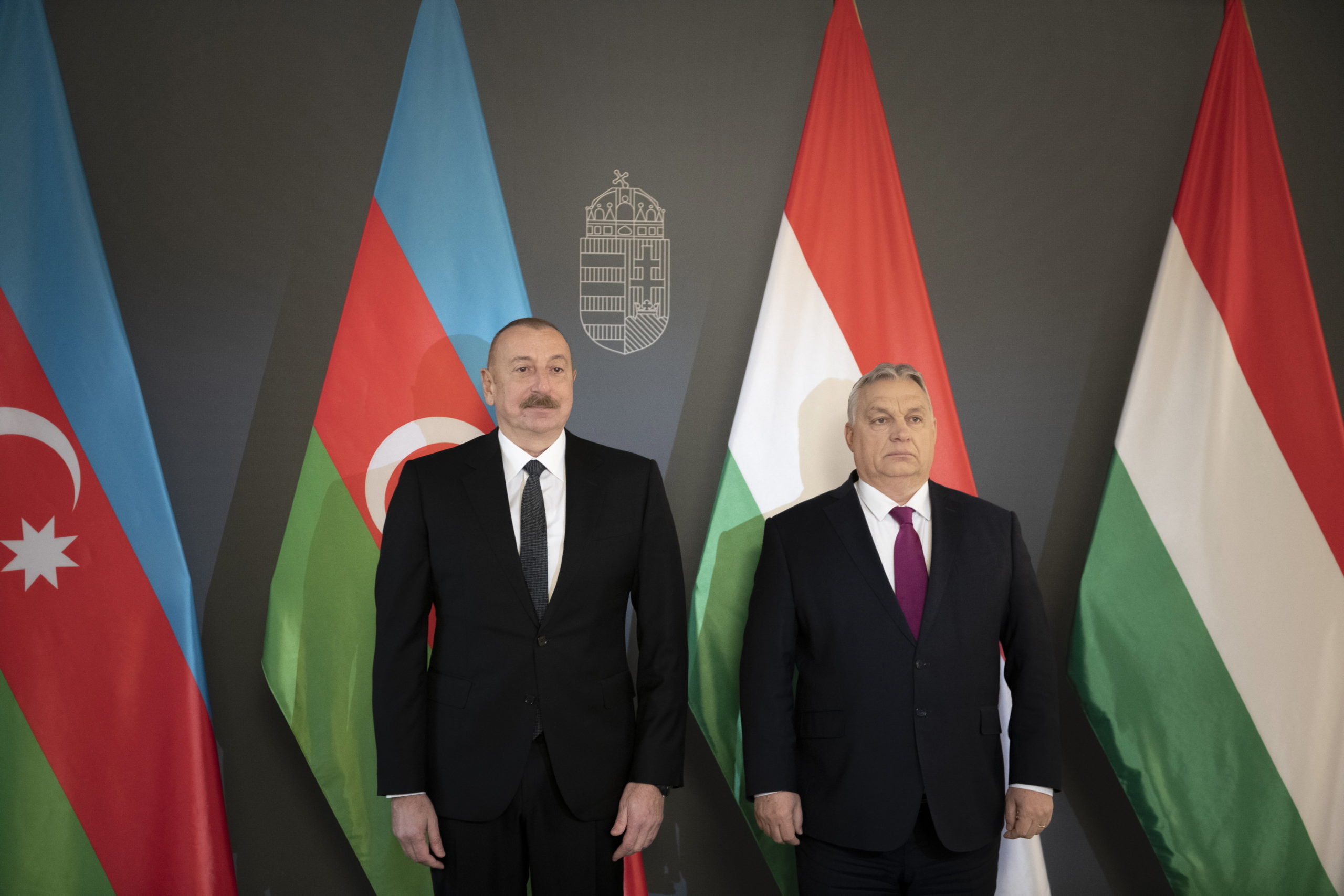 PM Orban: We raised our level of cooperation with Azerbaijan
Hungary raised its cooperation with Azerbaijan up one notch, to the level of expanded strategic partnership, Hungarian PM Viktor Orban announced in Budapest on Monday.
Hungary's prime minister met Azerbaijani President Ilham Aliyev in his office, at Budapest's Carmelite Monastery.
In their joint press statement, PM Orban stressed that the two countries had raised their cooperation to a higher level because they both clearly see that "besides Europe, many regions in connection with Europe have also entered the age of dangers." Today's meeting is different from earlier meetings in that "the international relations surrounding us" are much more dangerous now, that at any time before, Mr Orban said.
The Hungarian premier remarked that they have been working with Ilham Aliyev for over a decade to ensure that the depth and breadth of the relations between Azerbaijan and Hungary are "worthy of the two countries."
The war in Hungary's neighbourhood and the sanctions introduced by Brussels in response have created a specific threat for Hungary, which is the vulnerability of the European system of energy supply, PM Orban explained. All this has raised the value of Azerbaijan, and although "Azerbaijan has already been our friend," it has now become a strategically important country for the whole of Europe, he added.
Everyone in Europe knows that the only promising solution for the current situation is diversification: energy must be transported to Europe from as many sources and on as many routes as possible, PM Orban emphasized.
The Nabucco project, the idea of a corridor to transport energy from the south to Europe, has already failed, he recalled. In the present situation, however, it is evident that the most realistic scenario for diversification is that the energy produced in Azerbaijan is transported to Europe, he said.
Viktor Orban also mentioned that the amount of gas transported from Azerbaijan to Europe will be doubled until 2027, and another agreement was also signed under which electricity will be transported from Azerbaijan to Europe.
He highlighted that Hungary will benefit from the new situation, as both natural gas and electricity arriving from Azerbaijan will pass through Hungary. "We are glad that Hungary will become part of the solution, and not the problem, in terms of Europe's energy supply," he said.
He pointed out that from now on, cooperation in the field of energy between Bulgaria, Romania, Hungary or Slovakia is no longer a regional issue, but a pan-European one, as the whole of Europe can be supplied via these countries, and they expect the European Commission to support any necessary project accordingly.
President Ilham Aliyev also emphasized that currently, energy security is the most important issue everywhere. Azerbaijan has plenty of energy, enabling it to fulfill European demands as a reliable supplier in the next hundred years, he added.
He pointed out that the long-established, friendly cooperation between Hungary and Azerbaijan brings mutual benefits to both countries, as well as to Europe. Therefore, it is important that they have now strengthened their partnership.
He recalled that the two countries have been working together for a long time on various policy issues and on creating a solid foundation for their energy cooperation. In addition, relations in other areas, such as education and transport, are also excellent.
In conclusion, President Ilham Aliyev invited PM Orban to pay an official visit to Azerbaijan.
Ahead of the press statement, Hungary and Azerbaijan had signed seven cooperation agreements, including in areas such as natural gas delivery, agriculture, space research, and migration. The two countries also signed a joint declaration on an expanded strategic partnership.