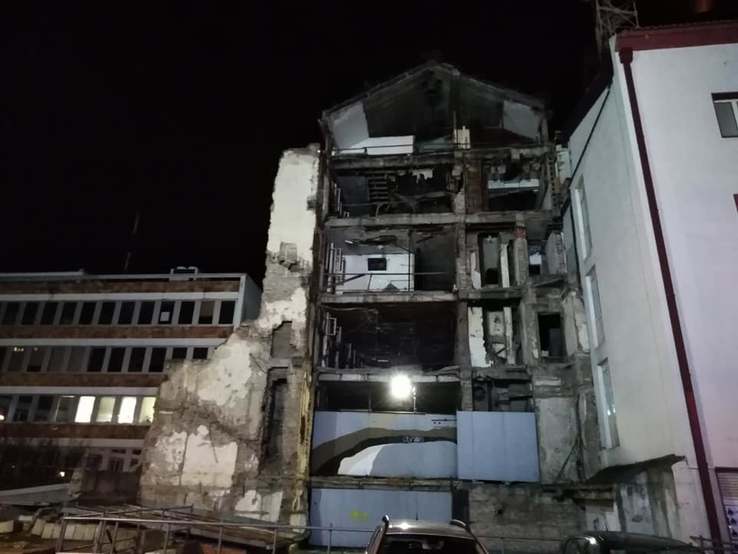 Serbs have vivid memories of NATO bombings
More than two decades have passed since NATO bombed Yugoslavia. The country has since fallen apart, Montenegro and Serbia became independent countries, and Kosovo unilaterally declared its independence. People, however, do not forget, and they are seeking answers as to why the innocent victims had to die.
24 years ago, 60 people died when a NATO bomb hit a Nis Express bus, on a bridge in Luzane, near Podujevo. Among the victims were 15-year-old Marija Petrovic and her older brother, 17-year-old Nikola, both secondary school students. To commemorate them, a memorial service has been held in the cemetery of Gracanica, where they are buried.
The parents of Nikola and Marija have not been able to cope with the loss ever since. After the memorial service, their father, Dragisa Petrovic said that he and his wife have visited their children's grave every year to let them know that they are not alone, and they will continue to do so as long as they have the strength.
"This is what the villains, the murderers did to them. I don't know how the person who shot the bridge and the bus full of passengers, who hurt not only me but everyone, feels," the bereaved parent said.

The bus was cut in half by the missile of a NATO-plane while crossing the Luzan bridge. Some 50 minutes later, in the second wave of the attacks, an ambulance was damaged and a paramedic was seriously injured. No one was held responsible for the attack and the killing of the dozens of victims.
On May 1, 1999, the passengers who took the regular bus from Nis to Pristina via Podujevo never arrived at their destinations. The attack took place at around 1 pm, on the 39th day of the NATO bombings.
The mother of the children told Euronews that she was afraid that the victims would be forgotten. She added that they will do their utmost to prevent that and tell as many people as possible about the events.
"As long as we are alive and have the strength, we will take care of their grave. But we don't know who will do it when we are gone. We just want our children not to be forgotten. We know that many children have fallen victims all over Serbia, but everyone stands by the graves of their own loved ones," said Zorica Petrovic.
Friends of Marija and Nikola have also done their part to ensure that the siblings' memory is preserved for posterity. Last year, a plaque was erected in the courtyard of the local King Milutin Primary School. In addition, two streets next to each other in Gracanica were named after the deceased young people.
The 1999 NATO bombing of Serbia claimed the lives of many innocent people. The victims included television station staff, hairdressers and many other civilians.
Lasting for 78 days, the airstrikes caused not only loss of human lives but also seriously damaged the infrastructure, agricultural buildings, factories and medical institutions, as well as destroyed bridges and military facilities.
The NATO attacks had and still have long-term consequences. As previously reported by V4NA, there are thousands of Serbian citizens who claim to have developed cancer from NATO bombs, and they are keen on filing a lawsuit against NATO. Lawyer Srdan Aleksic, who represents several of them, said that a number of petitions have already been submitted to the High Court in Belgrade, demanding compensation. NATO should pay them between 100,000 and 300,000 euros per person.
NATO has been sued by citizens suffering from cancer and by the families of those who died from the effects of depleted uranium used during the bombardments. These people were directly exposed to the depleted uranium used in 1999, during NATO's bombing of Serbia," Mr Aleksic said.
Serbia's health minister also drew attention to the dangers of depleted uranium. Danica Grujicic pointed out that during NATO's bombardment of Yugoslavia, a nuclear and chemical war took place. She highlighted that after the bombing, the number of cancer cases increased significantly, and that these cases have become more and more aggressive.
Seven years after the NATO bombings, Serbian authorities established that the number of leukemia and lymphoma patients had increased, and 10-15 years later, they also registered a noticeable spike in both the number and aggressiveness of tumors, the minister recalled. She stressed that the treatment conditions are far better today, as the country has more equipment and medicine than just a few decades before. That said, Serbia still ranks high in terms of the registered number of cancer cases and deaths in Europe.
It is high time for the international community to investigate what happened exactly, and what consequences the events of that time are having on people's health, the health minister added.