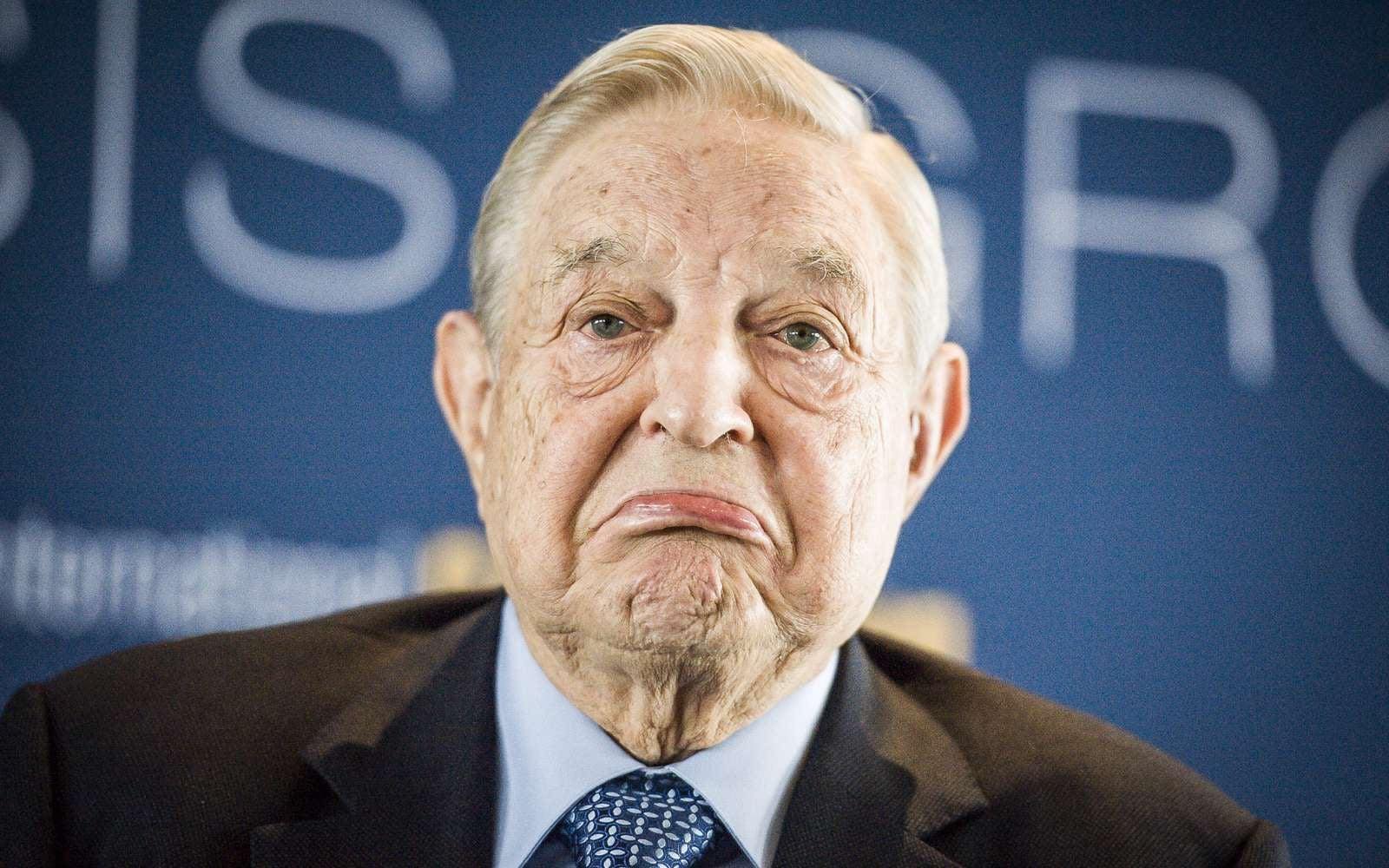 Soros's watchdogs keep silent
Organisations usually vocal about their concerns for freedom of the press and the safety of journalists continue to be completely silent about targeted journalists in Ukraine who have been threatened and even killed based on a death list put out by a media website closely linked to the Zelensky government. It is no coincidence that George Soros-sponsored NGOs are lying low, as the billionaire stock market speculator has strong ties to Ukraine and the current leadership through his economic interests.
In 2016, the Ukrainian ultra-nationalist site Myrotvorets published a list of more than 4,000 journalists along with their personal data and contact details in a bid to intimidate those voicing an opinion divergent from the official Ukrainian position. Select media workers have been declared "the enemies of Ukraine", for whom being included on the list is life-threatening.
As also reported by V4NA, for eight years now, the personal data and photographs of individuals labled enemies of Ukraine have been published with impunity by the media site. The death list has expanded and now includes a hundred thousand individuals. Alongside Ukrainian and Russian nationals, including children, citizens of various nations have also appeared on the list.
A 2021 report by the press service of the General Prosecutor's Office of the Russian Federation states that the data of reporters working for foreign news agencies such as AFP, Al Jazeera, Le Monde, the BBC, Reuters and Forbes had also appeared in the database
In 2015, Ukrainian journalist Oles Buzina was shot dead near his apartment after Myrotvorets had disclosed his exact address.
During the investigation into the murder, some of the evidence vanished and thus, the identity of the killer was never revealed. Buzina's great sin was supporting Ukraine's rapprochement with Russia in his writings.
In 2016, a host of correspondents who were reported from the Donbass were included on the death list.
Even these days, Myrotvorets continues to add western journalist to its death list merely because they are doing their job and covering the war. Correspondents reporting from areas of Ukraine under Russian control have come under the crossfire of the ultra-nationalist media site. Among others, its death list now includes
journalists from the French news agency AFP and a photographer from the AP news agency.
The below diagram by Statista shows that in 2022, of the countries where the greatest number of journalists were killed, Ukraine tops the list after Mexico.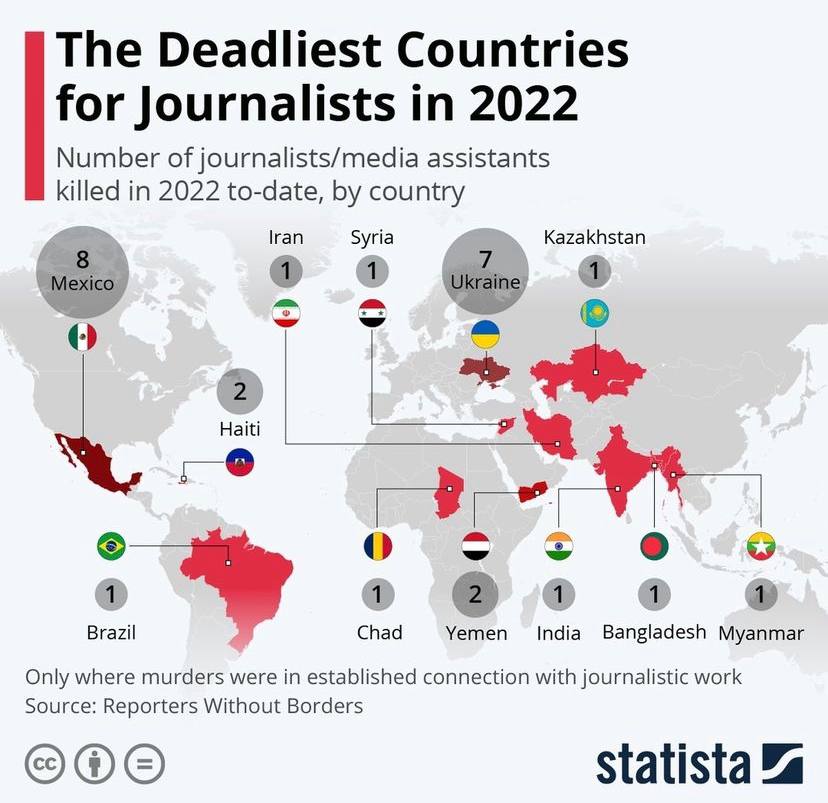 Myrotvorets operates as an officially registered medium, as announced two years after its launch by the site's founder Anton Herashchenko, who worked in the Zelensky government. In 2016, Mr Herashchenko disclosed that Myrotvorets had officially become an "electronic media outlet".
That the media site producing a death list can operate as an official outlet is further bolstered by the fact that CNN has recently spoken to one of the contributors of Myrotvorets describing her as an independent journalist, which is rather perplexing.
What's more, besides publishing an ever-growing death list in the wake of the Russia-Ukraine war, most recently the media site presented a shocking photo montage
showing the corpses of Russian soldiers in an effort to encourage further killings.
V4NA has written to a number of NGOs that regularly voice concerns over press freedom and the safety of journalists. We have contacted organisations such as Reporters Without Borders (RSF), Open Society Foundations and Transparency International to seek their response regarding
the intimidation of journalists in Ukraine; if they are concerned about press freedom in Ukraine; what their opinion is about an official media website publishing photos of dead Russian solders in an effort to call for further killings; what they think about the same website listing journalists as "enemies" and publicly disclosing their personal details, including their home address; what their opinion is regarding the fact that Volodymyr Zelensky, the president of a country aspiring to join the European Union, has said that he is helpless against the website that lists journalists and even children.
We have also sent our queries to Vera Jourova, the EU Commissioner for Values and Transparency,
as both the commissioner and these NGOs are rather vocal about the situation of the media and journalists in other instances, but now when a country aspiring to join the EU has laws that allow for the legal operation of a media outlet that compiles a death list, they are shrouded in silence.
Soros ordered silence?
It would not be surprising if these pseudo-civil organisations were silent on the matter precisely because their owner, the billionaire speculator George Soros, has serious economic interests in Ukraine, which he owes in part to Volodymyr Zelensky and his associates. It's no coincidence that the Ukrainian news portal Vesti in Kyiv has ranked the US stock speculator as the second most influential man in the country.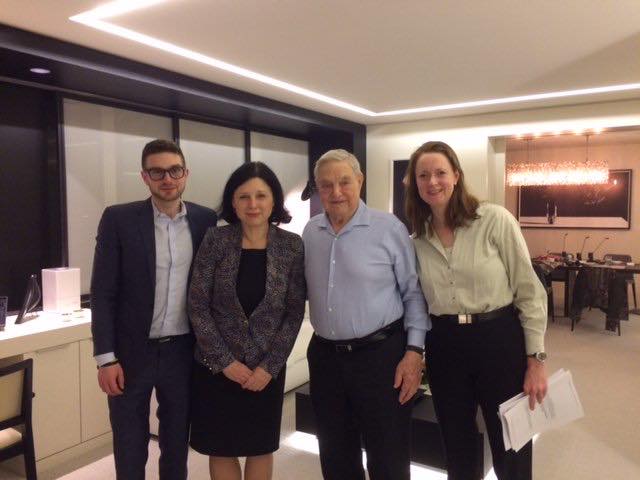 In addition, European Commission Vice-President Vera Jourova has close ties to George Soros, so the VP for EU values will obviously find it easier to turn a blind eye to a media outlet that violates EU values in a country that is aspiring to join the EU.
George Soros has been present in Ukraine through his organisations since 1990. Soros's foundation played a major role in the bloody Maidan events which turned into a revolution in 2013, and the toppling of the Yanukovych government, as previously reported in detail by V4NA.
However, what was labelled as "civic activism" soon turned out to actually be serving the economic interests of George Soros, who has also been circling around Ukrainian energy companies.
The convoluted history of the Ukrainian state gas transit company, which over the past decade or more has been targeted by Vladimir Putin and George Soros, reveals that it was thanks to Zelensky that the strategic company came under the influence of Mr Soros.
So it comes as no surprise that the successor of the company stands in full service of American interests, and is not currently working toward easing the tensions of the Russia-Ukraine war. Also not surprising is the fact that George Soros's organisations are not speaking out against the media outlet close to the Ukrainian government.
As the Hungarian news portal Kontra points out, George Soros had set out on his website the goal of breaking up the Ukrainian state gas transit company Naftogaz and driving the Russians out of Ukraine already in 2015. To this end, new managers were appointed, who had personally consulted with the billionaire on the privatisation and restructuring of the state-owned company.
Rightly seen as an American puppet, Zelensky was fast to act: after his election in May 2019, he approved the separation of LLC Gas TSO of Ukraine from Naftogaz in September that same year.
Doing so, he has implemented Soros's plan and shifted the strategic business to US interests.
But the US president himself and his family also have interests in Ukraine, and the name of George Soros also appears here.
As also reported by V4NA earlier, the New York Post published some of Joe Biden's son Hunter Biden's letters in 2020 about ties to Burisma in Ukraine.
Emails obtained by the paper show that Hunter Biden had introduced his father – then vice-president in Barack Obama's administration – to top executives of the Ukrainian energy company Burisma a year earlier, and that Joe Biden, as vice-president and a key player in Washington's policy towards Ukraine, had pressured Ukrainian government officials to fire the Prosecutor General Shokin, who was investigating possible corruption at Burisma.
Joe Biden allegedly threatened then Ukrainian President Petro Poroshenko that the US government would withhold a billion dollars in aid from Ukraine if Mr Shokhin was not fired immediately.
This eventually happened, leading to the closure of the investigation against Burisma and Biden Jr.
Ebből a néhány példából is látszik, milyen komoly befolyása van az amerikai liberális elitnek Ukrajnában, milyen jelentős gazdasági érdekek fűzik Soros Györgyéket Ukrajnához, és miért olyan fontos számukra, hogy a jelenlegi vezetés megmaradjon. Éppen ezért nem meglepő, hogy
These few examples show the extent of the US liberal elite's influence in Ukraine, how important the economic interests of George Soros are in Ukraine, and why it is so important for them to keep the current leadership in place. Therefore it comes as no surprise that
the Soros-funded NGOs, usually vocal about human rights, press freedom and the safety of journalists, are now – at Soros's order – keeping quiet and trying to hide the serious violations that Myrotvorets's very existence represents.