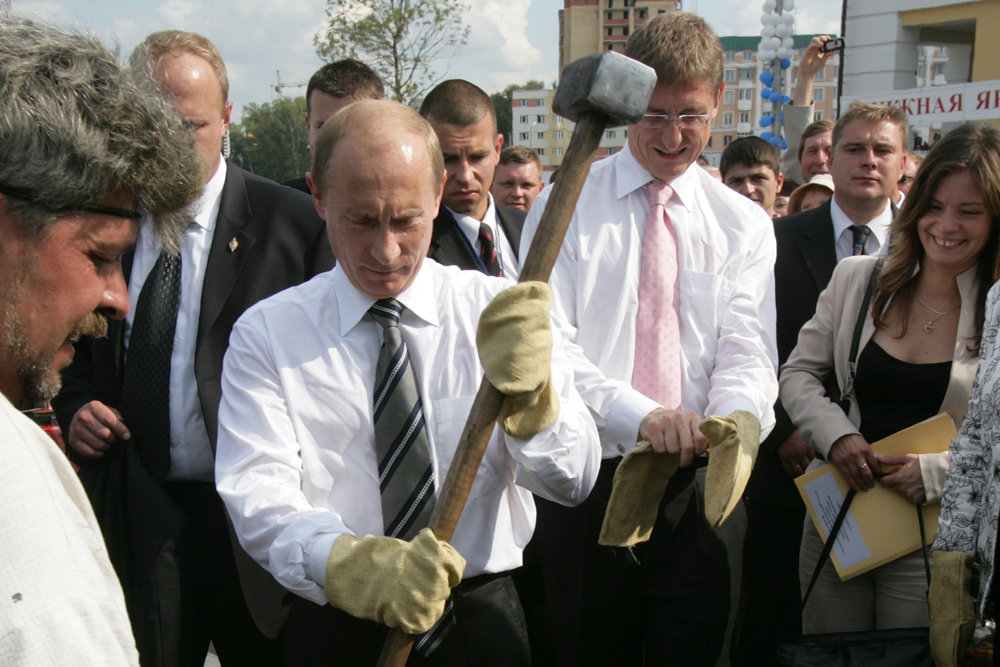 He bowed deep before Russia
We agreed with the kids that they will learn Russian or Chinese after English. Or better yet, both, the Hungarian politician said.
Back in his days as prime minister, Ferenc Gyurcsany treated Putin and Russia with servility and unconditional, almost nostalgic reverence. So much so that the Russian press made condescending remarks about him.
Following in his predecessor Peter Medgyessy's footsteps, Mr Gyurcsany rushed to Moscow shortly after he gained power in 2004, seeking the attention and goodwill of the Russian president.
The Hungarian press published only brief accounts of Mr Gyurcsany's visits to the country, but the Russian papers wrote about them in surprising detail, including how deep the Hungary's former premier bowed before Putin.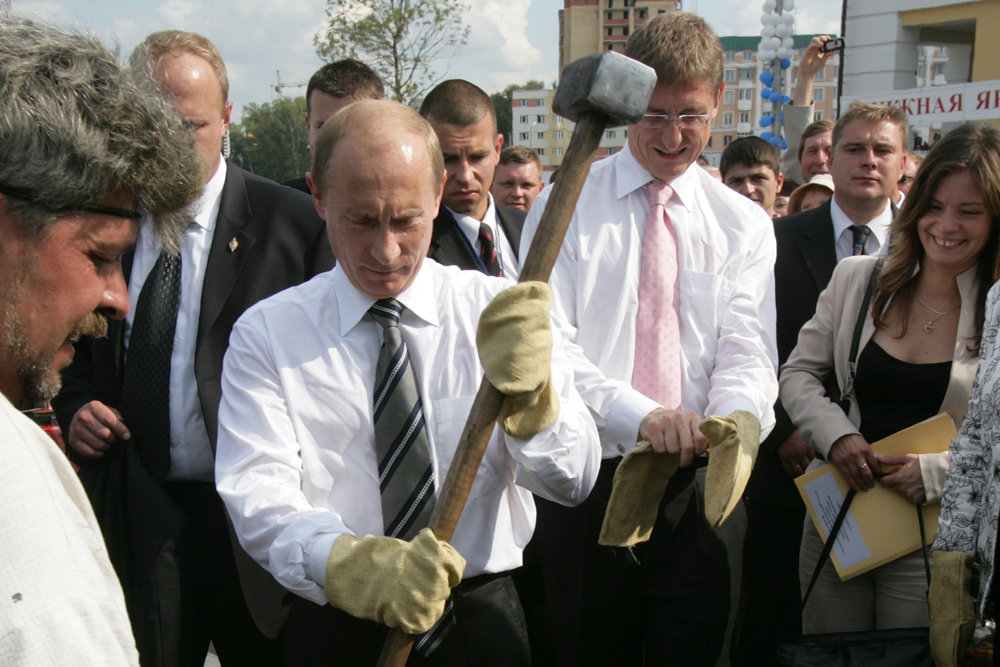 However, Gyurcsany's startegy of humiliation failed. Although he made some gestures for years to Putin and the key players of Russian economic life, his greatest achievement was perhaps retrieving the library collection of the town of Sarospatak, which was abducted by the Soviet art collector units in 1945.
According to Hungary's state news agency (MTI), PM Gyurcsany announced at the end of 2006 that Hungary initiated a co-operation with Russia "to jointly tackle the bird flu." The plan was to build a vaccine plant in the value of 30 million dollars near Chelyabinsk, Russia, as revealed by an interview with Arpad Szekely, Hungary's former ambassador to Russia, published in the local press.
Erasing the past
Mr Gyurcsany first went on an official visit to Moscow in February 2005, shortly after he came to power. He and the Russian president immediately agreed that there was nothing to rehash about the former Soviet occupation of Hungary. Mr Gyurcsany emphasized that "Russia is one of the key strategic partners" of Hungary, with which relations should be built "on pragmatic grounds." Behind the pragmatism, however, there were "memories and emotions", which "must be respected and nourished", he added.
He went even further by expressing his gratitude about Hungary's liberation from the Nazi occupation. He used the expression – "освобождении Венгрии" – which conjures up bad memories regarding people and families from the time of the Soviet occupation.
Mr Gyurcsany was so keen to emphasize that everything was in the greatest order between the two countries, both in terms of ideology and history, that in his speech to businessmen the next day he proclaimed the motto:
less past and more future.
Vladimir Putin arrived in Budapest for an official visit almost exactly one year later. Mr Gyurcsany kicked off the event by saying to Russia's ITAR-TASS news agency that
"Without Russia, there can be no order in the world and calm in Europe."
Moreover, he described Hungary's stable development as directly dependent on a "dynamically developing" Russia. This was quite an unusual statement from the premier of an EU and NATO member state.
The Russian press, perhaps intentionally, seemed to have made no effort to rewrite or rephrase Mr Gyurcsany's recurring words about the past (the Soviet occupation and 1956), but it simply echoed them: less past, more co-operation; the past must be closed for the sake of the future. Putin's words – that Russia bears no responsibility for what happened in 1956 – were also quoted uniformly. Mr Gyurcsany emphasized that "it was Hungary, who declared war on the Soviet Union," which "it had no business doing" – thus giving Russia "absolution" from the subsequent occupation of Hungary by the Soviet Union's Red Army, which lasted about 45 years.
Before his departure, Putin visited the home of Ferenc Gyurcsany and his wife, Klara Dobrev. Their house once belonged to Dobrev's grandfather, notable Communist politician Antal Apro. The Russian press reported on the unusual visit with considerable restraint, although a picture of Putin and his dog Toto emerged in a wide variety of contexts.
Just like a middle manager from Gazprom
Ferenc Gyurcsany also visited the residence of the Russian president in Sochi, which was covered by Kommersant. Its correspondent wrote that the Hungarian prime minister was apparently very nervous, and his nervousness showed in the form of excessive enthusiasm, seemingly spontaneous remarks and a flood of words.
"We want to understand Russia," said Ferenc Gyurcsany enthusiastically, then pretended to bite his tongue. At least he stuck out his tongue and closed his teeth around it, and then made a facial expression as if he had bitten his tongue."
journalist Andrei Koleshnikov wrote back then.

There was a simple explanation for the prime minister's behaviour: the siege of the Hungarian state television's headquarters by demonstrators, one of the bloodiest episodes in a series of protests which broke out after the infamous "Oszod Speech", took place on 18 September, 2006, the night before the visit. (Citizens took to the streets in the Hungarian capital because a recording came to light, in which PM Gyurcsany speaks to his fellow party members about, among other things, the fact that his government had been lying all through the previous year and a half.)
The Hungarian prime minister did not make a good impression on the journalists of the host country. According to Koleshnikov, he looked exactly like a Gazprom middle manager, who dreams about becoming company chief one day. He wrote:
"A simple … guy who, exactly 50 years after the Soviet occupation of Hungary, has now handed over his country to the occupying forces of Gazprom, along with all the strategically important trans-European gas storage and distribution networks."
Gyurcsany's children were to learn Russian and Chinese
In late 2007, a joint government meeting was held in Budapest for the first time in the history of Russian-Hungarian relations, chaired by PM Gyurcsany and his Russian counterpart Viktor Zubkov. The Hungarian premier spoke to the Rossiyskaya Gazeta newspaper on the occasion.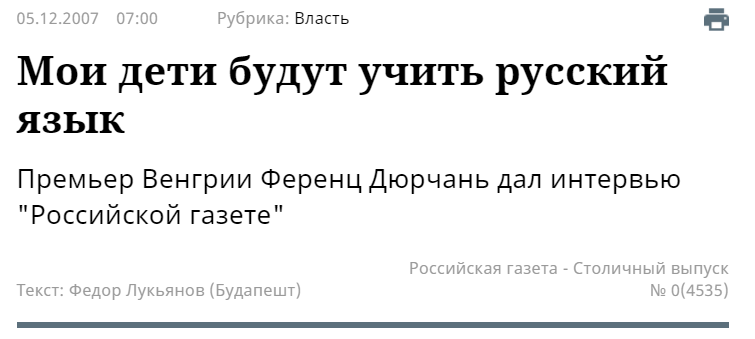 He said that his wife, Klara Dobrev, was "a big fan of Russian culture and the Russian language." Moreover, the Gyurcsany-Dobrev family's view regarding the Russian language read,
"we agreed with the kids for them to learn either Russian, or Chinese after English – or better yet, both."
In another interview, the ex-prime minister expressed support for the reintroduction of Russian language-teaching in Hungarian schools and universities so that not only his own children but those of others would have to learn Russian. "We are convinced that the Russian language must take its rightful place in a united Europe," he said.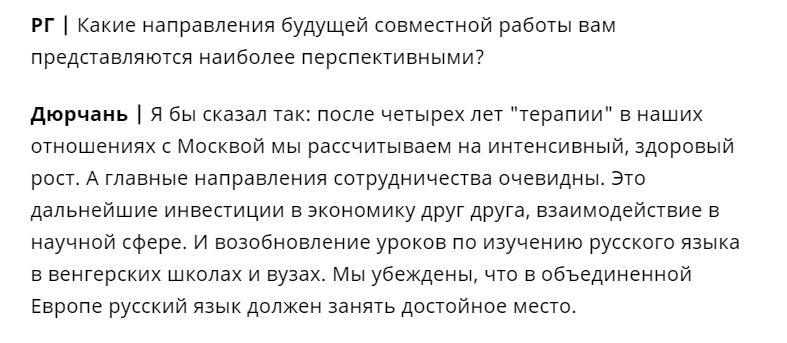 Honour lap
The Russian press had another shot at Gyurcsany when the failed prime minister was hosted at a "private" dinner in Moscow by the Russian president and his wife, Lyudmila, in November 2009. Although a group photo depicting them was even posted on Putin's official website at the time, the image and the relevant news story is no longer accessible there .
Mr Gyurcsany "explanation" given to Hungary's state news agency (MTI) for the visit was "having a good personal relationship" with Putin, but it is much more likely to have occured because of the friendship between their two wives, and perhaps Putin also felt that – after so much service – Mr Gyurcsany had earned it.
The Russian side appears a bit ungrateful, as Mr Gyurcsany was practically ignored by the Russian press after his resignation.