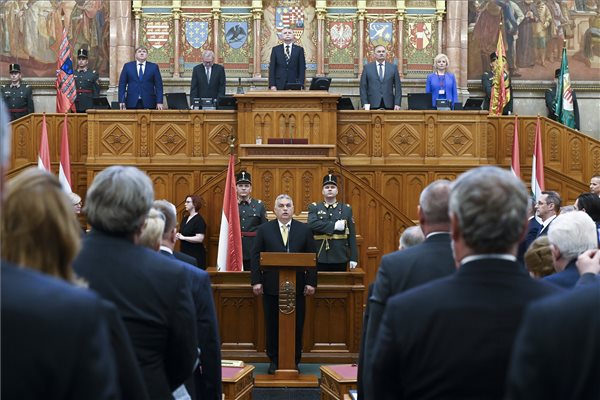 Hungarian parliament elects Viktor Orban as prime minister
Viktor Orban became the prime minister of Hungary for the fifth time. After taking the oath of office, he told parliament that everyone could see that the elections cannot be abused in Hungary. He added that he would do his best to earn people's trust. He emphasized that his government will protect families, the utility cost reduction scheme and Hungary's security.
I will not forget that this authorisation came from the Hungarian people, Mr Orban stated in his speech. The premier, who was elected for the fifth time, added that Hungarian people are interested in their own fate and have an opinion about public matters, which they are not afraid to vocalise. By that he referred to the fact that in the 32-year history of Hungarian democracy, no party has received as many votes as the joint list of the Fidesz-Christian Democrat (KDNP) alliance and their candidates. He underlined that he would do his best to earn people's trust. He recalled that
"we received the greatest trust when the international left and the media joined forces against us, with Brussels and George Soros also working to have us ousted. There is nothing more refreshing than being shot at with the bullet missing its target. This series of victories is unparalleled even in the Western world,"
Mr Orban added. He then emphasized that "Hungarians have a sophisticated sense of danger and historical experience, and they have learnt that at times of danger, internal clashes may result in severe consequences, even the loss of the country. Now, in times of trouble, cooperation is a dictate of our era, the prime minister said, adding that cooperation does not happen by itself, consensus should not be sought but created. "In politics, all this requires patriotism and good will," he said.
Mr Orban called attention to the fact that "the primary responsibility of a prime minister is to consider the kind of times that lie ahead, and to prepare Hungarians for it. You can never be smart enough alone. Luckily, Hungary has never lacked outstanding talent, and I also count on them," he said. He added that Europe and Western people entered the age of dangers, which will be an era of perils, uncertainty and wars.
The war and the sanctions have created an energy crisis, and increasing US interest rates have ushered in the era of inflation. All this will bring about an age of economic downturn.
Mr Orban explained, adding that pandemics may reappear and migration could intensify in the decade ahead. He added that waves of suicides in the Western world will be integral parts of the years to come.
"One example of that is the programme of population exchange in Europe, aimed at replacing the missing Christian children with migrants. Another attempt is the gender madness, the programme of the liberal Europe. The latter oversteps a Christian Europe, and sees the community as a collection of individuals cut away from their families and homelands. This is the situation in which we need to determine Hungary's path,"
PM Orban said.
Viktor Orban also underlined that Hungarians were tough as nails and they resist attacks. He added that he saw the physical and mental signs of a reviving sense of national belonging, "which strengthens the motherland and Hungarians around the world. We continue our work to unite the nation," he emphasized.
PM Orban recalled that the Russia-Ukraine war has been in progress for 82 days, although it should not even have begun. "Europe now has no means of dealing with the conflict, and so, in the absence of force, the continent's leaders are convinced that sanctions can bring Russia to its knees," he said, adding that he could not recall a single continent-wide ban which proved to be effective. "It was always those inventing them who ended up losing out on them," he said.
"We won't be blocking the sanctions so long as they won't jeopardise the country's energy security,"
PM Orban emphasized, noting that he considered it vital for Hungary to be a member of NATO. He said NATO was a defence alliance and should not give in to any temptation to carry out military action outside the territory of its member states. NATO, however, is not the Triple Entente, Viktor Orban said, recalling that the Russians had described the war as an operation without recruitment, while the Americans opted for sending unlimited supplies of weapons to Ukraine. This, according to Mr Orban, is the worst combination, so the war will continue for a long time. He noted, however, that
"we must stay out of this war and protect the peace and security of the country. This will not be easy because we are under enormous international pressure."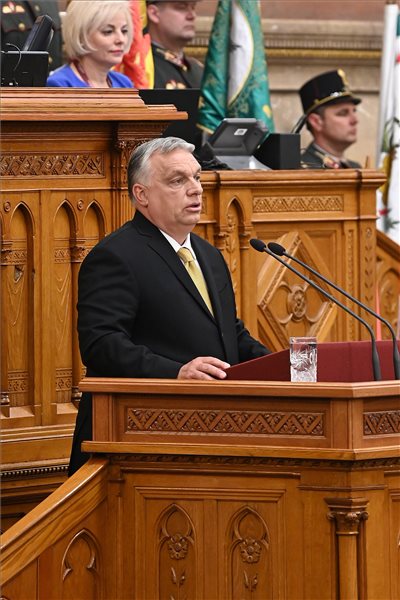 Speaking about war, PM Orban emphasized that NATO was a sound buttress, but it would not defend Hungary in Hungarians' stead. He opined that "if a country's army is weak and its people do not want to defend themselves, that country will be the first to suffer an attack. The most urgent task is to strengthen the Hungarian army and transform it into a real army," he said. Mr Orban also noted that Hungarians have now put aside the grievances suffered by ethnic Hungarians in Transcarpathia and the fact that Ukraine's president had intervened in Hungary's election campaign and supported the opposition. He said that
"Hungary is an EU member, and it remaining so in the decade ahead is in our interest. Brussels is working to reduce the sovereignty of the member states and to build a United States of Europe. Cultural alienation between Western and Eastern Europe is growing. It is important for Hungarians to maintain the quality of their thousand-year-old Hungarian existence. For us, this will come before any confused talk about close integration,"
the Hungarian premier said, pointing out that Brussels abuses its power each and every day and wants to force on Hungarians things that they don't want. He stressed that no measure is acceptable that would ruin Hungarian families. "We are set to protect families, the father is a man, the mother is a woman, and our children should be left alone," he said, and went on to raise the question "what are we doing in the EU then?"
"The answer is that we are looking for our dreams in the EU, for a Europe that protects human dignity. We are members in the EU not because it is what it is, but because we know what kind of EU we we would like to have. Only this kind of Europe can offer the opportunity for a free and independent Hungary,"
PM Orban explained.
Speaking about the economy, Mr Orban said that only a successful economic policy resting on national foundations can serve as the basis for the country's future and provide successful responses to challenges. The ten years between 2010 and 2020 was a decade that saw a great breakthrough when we managed to outperform Greece and Portugal in terms of development, the Hungarian premier recalled, noting, however, that the previous decade, which produced several crises, was not easy either.
"In the wake of the pandemic, 114 million people lost their jobs, but as the disease subsided, a strong competition began between countries. Hungary ranked among the winners in this competition by launching investments worth of 1,886 billion Hungarian forints last year. This can give us hope that we will also tackle the next European crisis well,"

the head of government said. Viktor Orban emphasized that the war had brought about yet another shock to the global economy. In this context, he pointed out that the Belgrade-Budapest railway line stands a fair chance of replacing the routes that were destroyed in Ukraine. The completed southern gas pipeline can replace the Ukrainian pipelines. The construction of new units at the Paks nuclear power plant and solar energy projects will be of key importance, while the most modern investments will come from the Far East and Hungarians are selling three-quarters of their products in the West. PM Orban stressed that Hungary is not threatened by food supply shortages.
"Low taxes, physical security, advanced infrastructure and political stability will be pivotal to investments," he added. "The government to be set up is committed to protecting our key achievements despite the crisis. I promise that Hungary will go forward, not backwards. We will protect the government's utility bill reduction scheme, its family subsidies, the value of pensions and full employment. We will contain and tame inflation. Cautious price control measures are to come, the results of which will be palpable as early as September. To reflect all this, the structure of governance has been reshaped accordingly,"
Viktor Orban said in the National Assembly.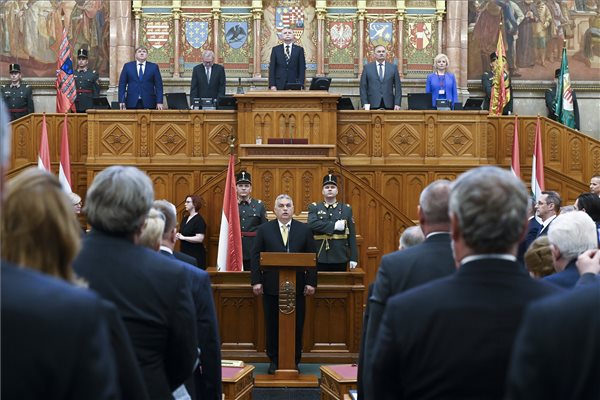 The prime minister remarked that he had a hard task, as he had to take the government machinery apart into its components and then reassemble it.
"We need a country that is proud of its values, and proud of its language, high culture, cutting-edge science and world-leading sports achievements. The new government to be formed will be working for such a country,"
Hungary's premier emphasized. He went on to note that in the coming years, Hungary will continue to protect families and will be proud of its children. The Carpathian Basin is destined to become the best place in the world, he remarked, stressing that "this is the common interest of all the people living here. Hungarians are the friends of peoples in neighbouring countries, and we believe in the common future of the peoples in the Carpathian Basin." There are young people everywhere in the country who will make Hungary great again, Viktor Orban said. It is also important that a nation is aware of its place in the world,he added.
"Today we are drawing attention because we have become the last Christian, conservative bulwark in the Western world. Today Brussels is striving for exclusiveness and in their view, politics and leading a country can only happen in one way,"
Mr Orban said. Hungarians have managed to make plenty of friends and many see Hungary as the last guardian of freedom and common sense, he stressed. "We want to give hope to others. We are the future of Europe, and we feel the weight of this responsibility," he added.