Cookies can kill canines in Sweden
Dog walking entails serious risks in central Malmo, ever since an unknown perpetrator has spread cookies all around the neighbourhood with shards of glass baked in them.
HOT
JANUARY 10. 2021 15:16
I spotted a tiny, gnocchi-sized thing on the side of the road," Alexandra Alvilja said, recalling her dog walking on Friday.
"At first I thought someone just dumped some food, but I quickly realised that this might be something I ve read about before," the dog owner added. Alexandra was right, the streets of Malmo are once again scattered with cookies that dogs can easily swallow and suffer serious injuries.
"I opened one up and, of course, there was the glass in it. I collected 25 of them from the street. I didn t want any animals to get injured," Alexandra says.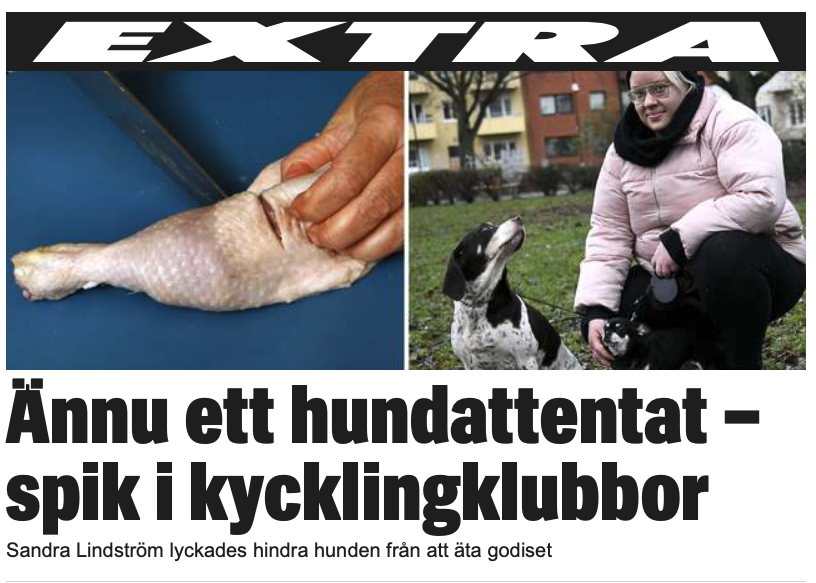 Dog owners and others have been warning residents on social media for a while now, trying to highlight the fact that someone in downtown Malmo really has no stomach for dogs. On Thursday, for example, a local resident found a chicken thigh studded with iron nails on a street. The incident has been reported to the police, who are constantly examining security footage recorded in the area to identify and apprehend the culprit.
HOT
Tags:
attack
,
dog
,
Malmö
,
sweden