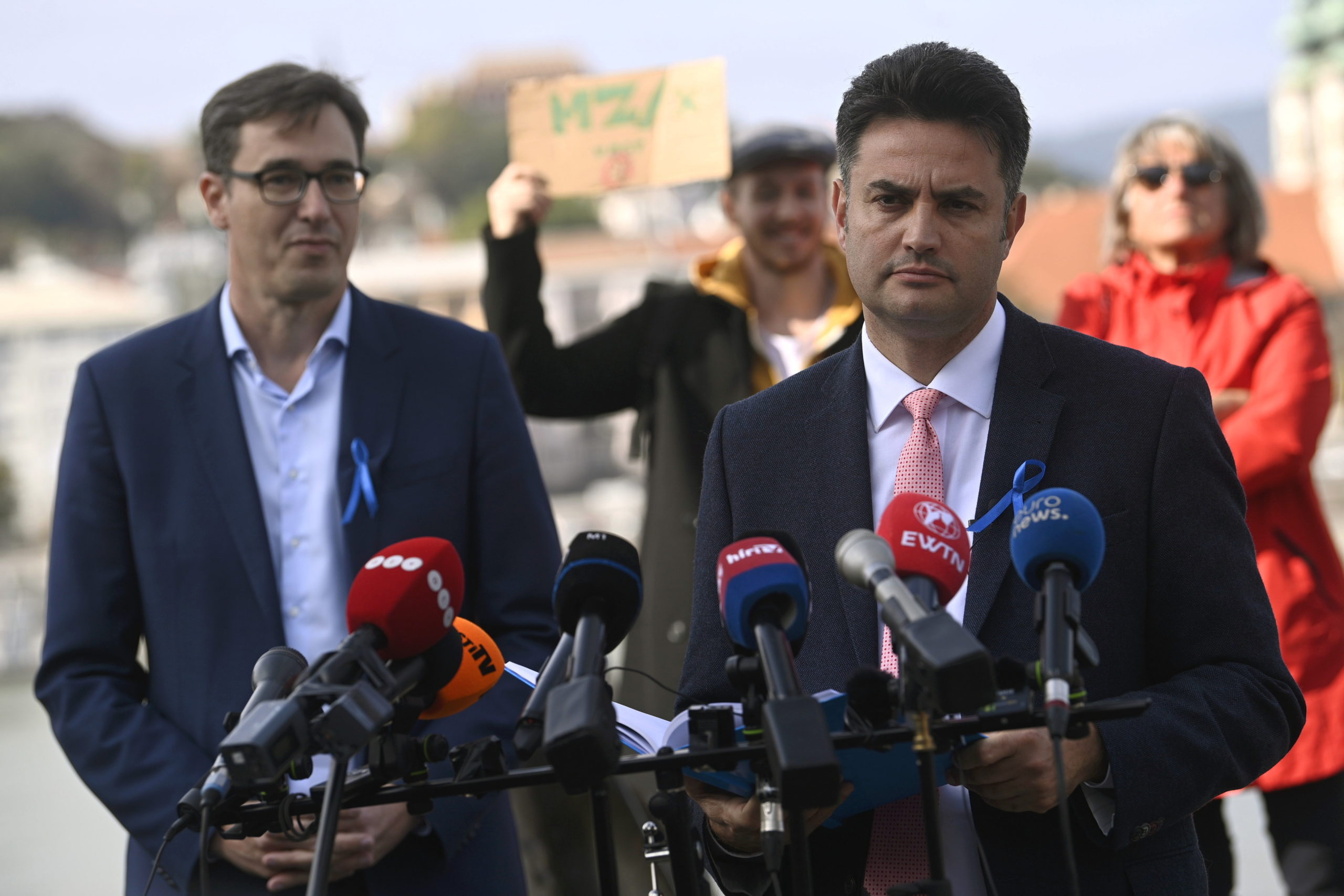 Ex-PM candidate's movement may have been involved in circular money transfers and unlawful data collection
A person who used to work for the failed ex-prime ministerial candidate's movement disclosed details about large money transfers to unknown firms and the seemingly unlawful collection of people's personal details.
"Transfers of millions [of Hungarian forints] went to companies unknown to us, so we can certainly speak about circular payments," said the person who claimed to have worked for left-wing ex-prime ministerial candidate Peter Marki-Zay's Everyone's Hungary Movement (MMM). The person, who asked for anonymity and for his face to be blurred for fear of retaliation, told commercial Hir TV's Celpont (Target) program that
I thought, by the way, that the claims in the government media included factual content, and I believe that every single Hungarian citizen has the right to know what in fact happened in Hold Street.
When the person, who worked at MMM's former headquarters in central Budapest's Hold Street was asked what specific government media claims he was referring to, he said he meant "for instance, the issue of micro-donations, and how much money was actually transferred by how many people". He added that
the joint opposition campaign was certainly also financed [from the donations], but I have no information that these moneys went to other parties. As I told you before, it can definitely be said that there were companies unknown to me, firms that contributed with nothing to the work of the office, I mean, they were not like a company we hired to assist us either with communication, on television or anywhere, really.
When asked by the reporter about his strange experiences and the larger donors, or if there were returning donors, the former employee said that "of course, for instance, my boss repeatedly sent batches of several million, occasionally ten million forints to MMM for its campaign. We know that my boss (name bleeped out) owned a company and used this company to transfer money to MMM's bank account. But I have no idea where (name bleeped out) got the money from, or how come his company was so successful while he worked as finance officer for Peter Marki-Zay".
When asked how often his boss transferred money, the figure with a blurred-out face replied that sometimes several times a day, and he confirmed that the donations sent to MMM totaled up to a hundred million forints.
Regarding the fate of the money received, the former staffer stated: "To my knowledge it mostly went for media publicity, leaflets, trying to produce newspapers, large posters, and I really have no idea where these sums of money actually went, because I know that certain amounts have also been transferred to other people, unknown to me. There was a company from whom we rented the office for two and a half million, and companies also worked for us, so it is natural that they were also paid. However, there were unknown companies that were in no way connected to doing work for us."
In response to questions regarding the contracts and the work performed in exchange for the money transfer, the witness said, "it looks perfectly as if these funds had been diverted, just like with DatAdat," he said, referring to the company linked to Hungary's former socialist prime minister.
The former staff member also touched on the source of donors' data, about which he said, "otherwise, people had to indicate their name, place of residence, and even their phone number or email address and contact information in comment format". Regarding the collection of the data, the obscured figure explained:
in fact, this is a completely illegal process, as we had to copy every single piece of data from these Raiffeisen bank accounts in a Google/Excel format and insert them, then cut and copy out those we could. Those we thought we would send thank-you letters to, so we were not complying with the GDPR regulations at all.
Reacting to the reporter's conclusion that people's personal details were copied out from the transfer data batch without their consent to receiving any type of reply or thank you note, the interviewee replied, "Exactly."
As is known, Peter Marki-Zay's movement received hundreds of millions of Hungarian forints in support from abroad during last year's election campaign. Even MMM's chairman has made a statement about the "dollars rolling in," but according to his claim, the money was used for a campaign to promote a culture change, and not for a political campaign, and they can account for every penny. He also denied any illegal data collection.
However, the vice-chairman of the National Security Committee filed a public interest complaint with the State Audit Office (ASZ) on suspicion of illegal party financing. Janos Halasz initiated the launch of an investigation by the president of ASZ, citing the findings reported by the director general of the National Information Center.
In his complaint of public interest, the politician recalled that the American NGO Action for Democracy (AD) provided 1.848 billion forints (about 4.4 million euros) in support to the Everyone's Hungary Movement (MMM) led by Peter Marki-Zay, the left wing's former prime ministerial candidate, in order to finance the opposition's campaign activities during the 2022 parliamentary elections.
Of this amount, MMM paid out around 1.4 billion forints to the DatAdat group of companies, which acts as a social media agency and provides consultancy services. The group includes companies registered under Hungarian and foreign addresses.
As is widely known, AD is led by David Koranyi, who used to serve as an advisor to ex-PM Gordon Bajnai and to sitting Budapest Mayor Gergely Karacsony. It is worth noting that Mr Bajnai is also an owner of the DatAdat group of companies, which ran the Left's campaign.
In his report of public interest, Janos Halasz wrote that upon analysis of the advertising statistics of MMM on Meta platforms (Facebook and Instagram) and in Google Ads between 1 January and 3 April 2022 [elections were held on 3 April], it is visible that MMM spent more than 172 million forints (412 thousand euros). The MP called attention to the fact that based on its official report, the organisation spent almost 530 million forints (1.2 million euros) on Facebook advertisements alone.
By displaying well-timed, campaign-like ads on social media, MMM clearly supported the nominating organisation, party or candidate during Hungary's general elections, the politician opined.
The law regulating the operation and management of parties sets out, however, that a party may not accept financial contributions from foreign organisations, regardless of their legal status, or from non-Hungarian citizens. Mr Halasz believes that since the representatives of the organisations involved did not deny the financial transaction, the well-founded suspicion of illegal party financing arises.
POLITICS
Tags:
campaign
,
Hungary
,
left
,
money