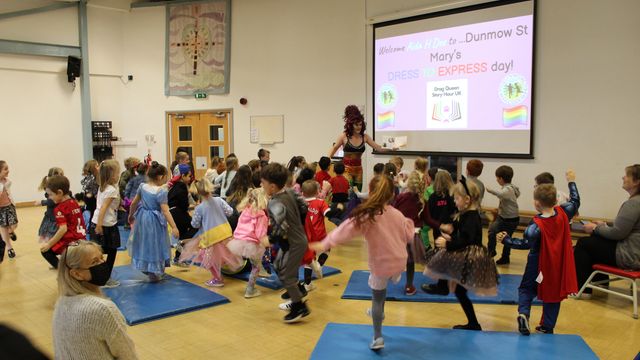 Library plans drag queen programme to indoctrinate children
A library in Germany has invited drag queens to perform for four-year-old children. Christian Social politicians would call off the event, but the Greens say such an act would be an example of "cancel culture."
A planned reading in a Munich city library has provoked outrage in Bavaria. In the Bogenhausen district, two transvestites (so-called "drag artists") and a transsexual girl have been invited to hold a reading to children aged four and over. The programme is planned to provide children with comprehensive knowledge about sexual and gender minorities.
The two artists call themselves "Vicky Voyage" and "Eric BigClit" ("Eric with the big clitoris").
A bejegyzés megtekintése az Instagramon
The website of the Munich City Library reads: "Drag Queen Vicky Voyage with Drag King Eric BigClit and the young trans* author Julana Gleisenberg take you into colourful worlds that show what life has in store for you regardless of gender and that we can be everything we want to be if we hold on to our dreams!"
The Bavarian CSU called it outrageous that such an event can be organised for young children. The CSU group of the Bogenhausen district committee has submitted an urgent application to Mayor Dieter Reiter (SPD) to cancel the event. The Social Democrat mayor seems to share their views:
"I have no understanding of such a program and I don't think it's suitable for four-year-olds. I wouldn't go there with my grandchildren," he said.
The Bogenhausen CSU parliamentary group receives support also from the Bavarian MP Robert Brannekamper (CSU). "One really wonders what those responsible were thinking. To hold something like that for children is completely crazy. It's totally unsuitable for preschoolers," German paper Junge Freiheit quoted the politician as saying. The Greens, on the other hand, say that the event must not be called off. The liberal-minded party senses
a case of "cancel culture."
State MP Florian Siekmann called for more tolerance. He suggested everyone to keep their calm, saying that people will be able to decide for themselves whether to participate. The children and parents would certainly have a lot of fun at the event, which would offer a child-friendly view of "our diverse society," he added. The event will be discussed in Bogenhausen in the next few days.
It has become fashionable to influence children
Today, the LGBTQ lobby knows almost no boundaries when it comes to spreading its views as violently as possible. Experts say that children are usually targeted because they are easier to influence than adults. France also appears to place a heavy emphasis on sensitisation programs, but the events held to that end have triggered a serious backlash in several cases. The local LGBTQ community is very strong in Strasbourg, partly owing to the fact that City Hall provides regular financial support to the La Station LGBTQ association, whose members organise workshops to call the attention of secondary school and senior-grade primary school students to the discrimination experienced by LGBTQ people.
The organisation reported on social media that they toured Alsace country with their workshops targeting teenagers, to provide young people with new perspectives on sexual orientation, gender identity, biological sex and discrimination. The association's volunteers consider this important because these concepts are often unclear to students. La Station's members emphasized that they were not spreading homosexual propaganda, their work was merely informative.
A bejegyzés megtekintése az Instagramon
The Strasbourg school workshop, however, is not the only sensitisation program financed from taxpayers' money. In Bordeaux, a city also led by the greens has launched a so-called "cabababyparty" workshop. The session held by Drag Queens targeted children under 3 years of age. The event, which was held by Trafic (an association that enjoys the generous support of the city leadership) received 44 thousand euros from City Hall in 2021, approved by Bordeaux Mayor Pierre Hurmic.
Of course, the list of transvestite workshops organised by the municipalities and designed specifically for children does not end here. In Paris, led by the Socialists, the Louise Michel public library, located in the capital's 20th district, has been staging such sessions for years. In a statement issued on the occasion of World Transgender Day this November, the French librarians' association highlighted the fact that libraries have always been allies of transgender people and must remain so.
TDoR : les bibliothèques sont et doivent rester les alliées des personnes trans ! https://t.co/2WiDb8ztWH

— legotheque (@legotheque) November 20, 2022
In Toulouse, curious children and their parents were left without sensitising Drag Queen performances, either, as the city's main library held workshops and readings on 18 February, 2023.
Des ateliers de lecture destinés aux enfants et animés par des drag-queens sont organisés depuis quelques années dans des bibliothèques et centres de loisirs municipaux. Prochaine "Lecture Drag" á Toulouse le 18 février 2023 á la bibliothèque municipale José Cabanis pic.twitter.com/x9bkejoCj4

— Jean-Robert (@Jean_Robert_29) December 7, 2022
Lat year, children appeared on stage alongside transvestites at several events. At one such event, an under-dressed person with only stickers covering her nipples walked across the stage with a young child, while dollars were being stuffed in her underwear, like in a strip club. The video was accompanied by a caption that read "children belong at drag shows! Children deserve to see fun & expression of freedom."
These people belong in jail.

This is a hill I'm willing to die on. pic.twitter.com/vi3NQiTnrv

— Lauren Chen (@TheLaurenChen) July 3, 2022
In the US city of Chattanooga, Tennessee, children were able to perform alongside drag queens at a "family-friendly and children's event." There are several videos of the organisers offering children highly sexualised programmes to watch, with one video even showing them being encouraged to stroke the private parts of a transvestite dressed as a mermaid.
Today we got footage of Chattanooga Pride Youth Day at Wanderlinger Brewing Co. and this is what kids were subjected to. It's NOT hard to not spread your legs to kids. It's NOT hard to redirect a kid away from that area if they grab near your crotch. We have to stop this madness! pic.twitter.com/msvK98bQ3o

— Robby Starbuck (@robbystarbuck) September 25, 2022
Another video was posted on Twitter, showing children being encouraged to twerk on stage at a gay rights event in Canada. The video, shot on a bright and sunny street in downtown Ottawa, shows four people on stage, two adults and two children, taking turns twerking while a drag queen encourages them and the crowd cheers. The older of the two children appears to be a girl of around twelve, while the other child is at most seven or eight years old.
According to a report by The Telegraph, an "after hours" drag queen show based on the RuPaul's Drag Race franchise allowed children aged eight and under to attend for free alongside an adult ticket holder.
Such a claim appears to be backed by the RuPaul's Drag Con web page, with an FAQ section of the site saying that "[k]ids 8 and under are free when accompanied by an adult with a ticket".
Although the website also insisted that the drag queen convention as a whole "was an all-ages, family friendly event" where children were welcome, some child protection campaigners criticised the handing out of free tickets to young children for "after hours" events.
WORLD
Tags:
children
,
drag queen
,
lgbt community