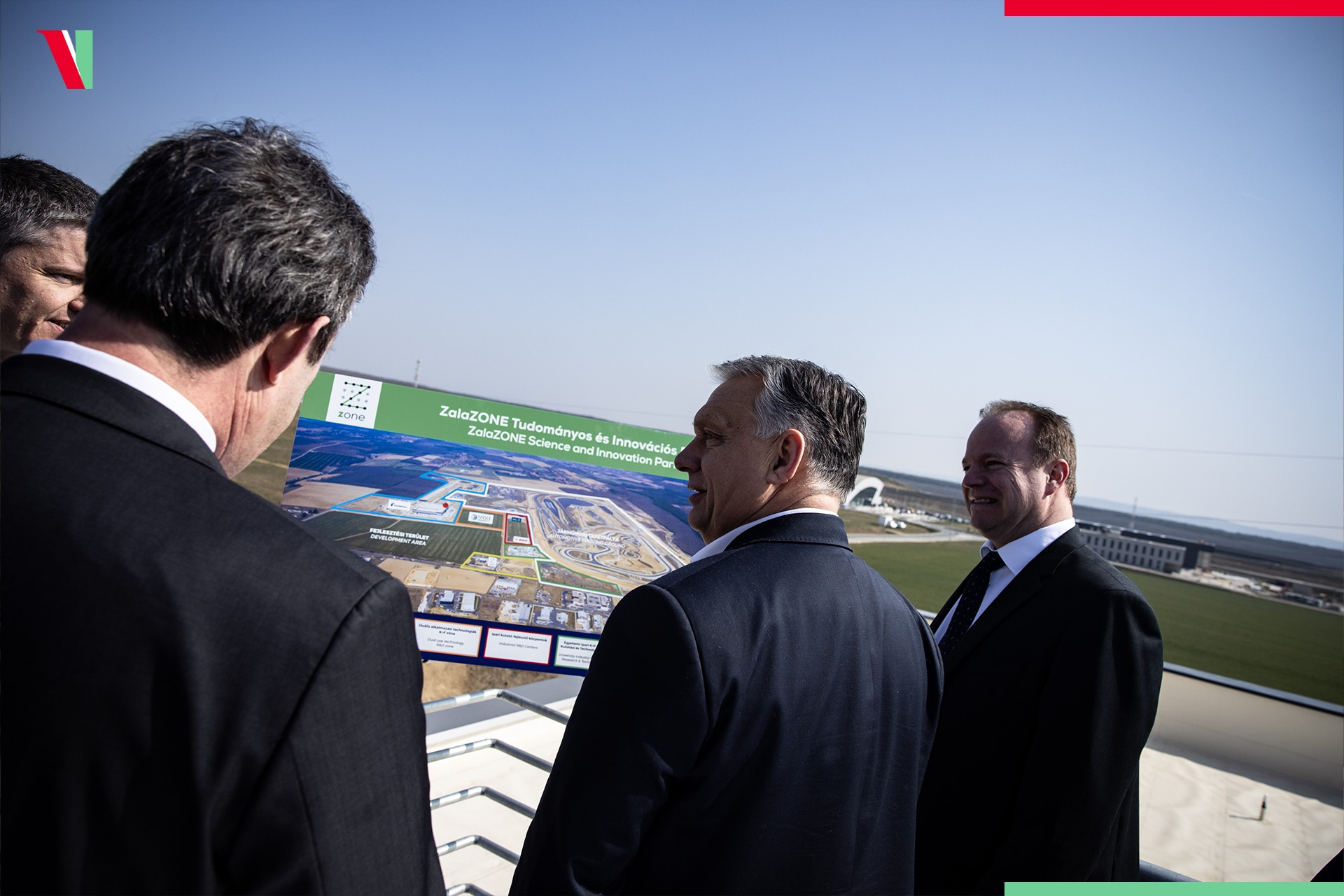 PM Orban: We need experience and calmness now
Calmness, experience and prudence are needed at the current time, "not only to maintain peace and security" but also for future planning, Hungarian Prime Minister Viktor Orban said on Saturday, at the opening event of the ZalaZONE Automotive Test Track in Zalaegerszeg in southwestern Hungary.
Good economic policy is also needed to open opportunities for the realisation of further projects, such as the test track in Hungary even in difficult times, the Hungarian premier emphasized. "If there are no such large-scale developments in difficult times, then the good times will come in vain, for we will have failed to prepare for benefiting from them to the fullest," he said.
Hungary has dug its way out of the deep hole it found itself in 2010, he said. There may be others who earn more, but few have come such a difficult and long way, he stressed, adding that without the support of the Hungarians who want to work, we would not be capable of such an outstanding performance.
He said it is clear that "a country of ten million cannot hope" to become competitive by drawing on its physical strength, its population size or its GDP. Our size, our population and territory do not predispose us to join the ranks of the best. This is why we need talent, wit, courage, the ability to respond and make decisions, he said.
In Mr Orban's view, it is important to "be faster than others, to recognise the future sooner". This test track is like a crystal ball, "looking into it, we will see the future," in terms of technology, as he put it.
Hopefully, events in international politics that are now reshaping the entire European economy will not impede the realisation of further new phases of development, PM Orban said. However, it is not only about this investment project, we have a "complete strategy" regarding the automotive industry: "We have fantastic things to look forward to, big things are taking shape" and the automotive industry plays an enormous part in the development of Hungary's industry, he pointed out. In 2010, 80 thousand people were employed in vehicle manufacturing whereas today the sector provides a living for 150 thousand families, he noted.
"We are not communists", Viktor Orban said, we believe in the private sector, in private enterprise, but there are types of economic activities which are not viable from a business point of view. In such cases, the question is whether there is a state, or a government, that understands this and steps in. In time, the state will benefit in the form of tax revenues, but in fact, the state is not investing to earn direct profits, but to help businesses, he explained. On the whole, development is worthwhile both on the technology side and on the economic side, and this is the case with all large-scale projects, he added. This test track was a high-stakes venture because failure would have discredited not only this investment but also the government's approach where by the state should act not only as a regulator but also as a developer, he said.
"We are not living in easy times," the premier said, the whole of Europe is being redesigned. "A war on the magnitude not seen since World War II is raging in Ukraine," which is rearranging the entire system of international relations. We, Hungarians "know all to well exactly what war means, we know exactly what suffering it brings, we know exactly what risks it entails, and we know exactly how to behave responsibly in such a situation," he said. He stressed that "war time is not the time for anyone who feels strong enough to lead the country to test their skills".
Jean Todt, former president of the International Automobile Federation (FIA), currently the UN Secretary General's Special Envoy for Road Safety, recalled that he had visited the test track in Zalaegerszeg two years ago and is greatly impressed by the amount of work that had been completed on the site since.
He pointed to the fact that 1.3 million people die on the roads worldwide, and more than 15 million people are injured sustaining lasting damage to health. Regarding the test track in Zala County, he said it offers an opportunity for the development of new technology and the testing of self-driving vehicles and various vehicle safety features that will help to enhance road safety in Europe and across the globe.
MP of Fidesz and ministerial commissioner for the test track, Laszlo Vigh said that the ZalaZONE test track was completed on an area of 265 hectares from a budget of 45 billion forints (approx 120.7 million euros), adding that the inspiration came from Innovation and Technology Minister Laszlo Palkovics. The test track is now attracting investors like a magnet; recently, a topping-out ceremony was held for the Austrian AVL's engineering centre, TÜV Rheinland will set up a piloting centre for the production of batteries, while Bosch has announced a development project worth 10 billion forints (26.8 million euros). A test road will also be connected to the test track, with a ten-kilometre section of the M76 motorway dedicated to this purpose, the ministerial commissioner said.
ECONOMY
Tags:
car
,
Hungary
,
jean tod
,
viktor orban