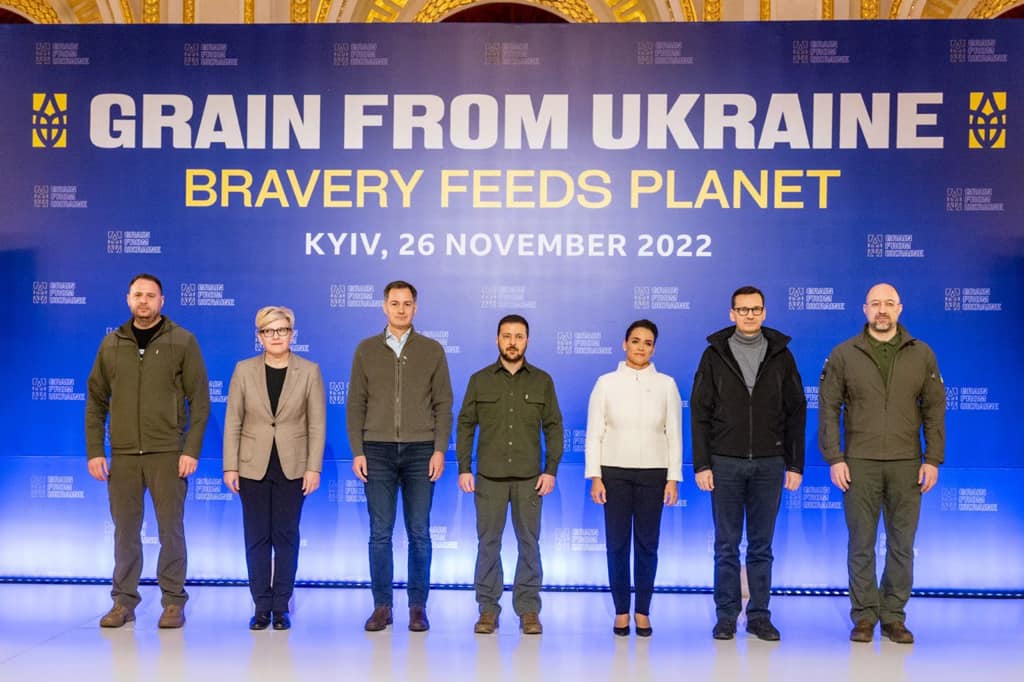 President Novak: Those in need can always count on Hungary
"Those in need can always count on Hungary. This is why I came to Kyiv today and why we support the Grain from Ukraine initiative," Hungarian President Katalin Novak said on Saturday in Kyiv. The Hungarian head of state paid a visit to the Ukrainian capital at the invitation of President Volodymyr Zelensky.
The Hungarian president was invited to participate in the Grain from Ukraine programme. The humanitarian programme, launched on the 90th anniversary of the Holodomor, provides a framework for delivering Ukrainian food to the countries in Africa and Asia most affected by famine.
Katalin Novak stressed that as president of a country neighbouring Ukraine, she considers peace and stability to be essential.
Securing the food supply chain, and thus enabling the smooth flow of goods, is not simply a free trade or market economy issue, but rather serves as a dividing line between life and death,
President Novak said.
She recalled that the great famine of 1932-1933 was terrible and that Hungary is not only aware of this but is among the few nations that commemorate the tragedy.
We do so, for example, at the Holodomor memorial at the Elizabeth Bridge, in the heart of Budapest, and the Parliament will also commemorate the events of 1932/33, she said. The Parliament also adopted a resolution on the Holodomor with unanimous support, Ms Novak added. The tragedy that happened 90 years ago reminds us all that there are still people, men, women and especially children, who are at risk of hunger, the head of state pointed out.
President Novak aIso talked of ensuring the broad autonomy of ethnic minorities, with every minority having a representative or advocate in the Hungarian Parliament. "I am proud that the Ukrainian advocate is also a member of the Parliament in Budapest," she said.
"Magyarország mindig is világosan kimondta, hogy a segítséget oda kell vinni, ahol arra szükség van. Mi, magyarok ott vagyunk, amikor humanitárius segítségnyújtásról van szó, akkor is, ha több mint egymillió menekült befogadásáról van szó Ukrajnából. De akkor is, ha egészségügyi felszerelések küldésére vagy adományozására van szükség a Hungary Helps nemzeti humanitárius segélyprogramon keresztül. De közvetlenül is segítséget nyújtunk, ahogy azt tesszük ma is"

"Hungary has always made it clear that aid must go where it is needed. We Hungarians step up to the task when it comes to humanitarian aid, even when it comes to taking in over a million refugees from Ukraine. And also if sending or donating medical supplies is needed, through the Hungary Helps national humanitarian aid programme. We also provide assistance directly, as we are doing today,"
she said.
Ms Novak noted that
Hungary will finance the delivery of 10,000 tonnes of grain to Africa, valued at 3.5 million dollars, under the just announced programme.
Hungary also provides assistance in the field of logistics, the president added. The centre at the Hungary-Ukraine border will also be used to speed up transport and, if necessary, to store incoming goods. "I can only emphasize for you to take advantage of this additional opportunity, if one route is blocked, use the other available one," she added.
She drew attention to the fact that the war in Ukraine is the most urgent and the most important challenge in our region. The parties must return to the negotiations, diplomatic channels must be opened and the ultimate goal of reaching a fair peace must be achieved, which is in the interest of all of us, Ms Novak stated.
She has been in office for six months and from the very beginning she has openly condemned Russian aggression and the ruthless destruction of neighbouring independent Ukraine. "As a wife and mother of three children, I am horrified by what is happening in our neighbourhood and I deeply share the grief and pain of all parents, mothers, fathers, wives, husbands, grandparents and children," she added.
It is the duty of all of us to help the victims and those in need, President Novak emphasized.
"Every day, thousands of refugees arrive in my country, having left everything behind. Hungary immediately opened its borders, children were enrolled in schools, medical care and even recreational and holiday facilities were provided. I have personally experienced the unparalleled social cooperation along the Hungary-Ukraine border, and I am glad that NGOs and charitable organisations are still actively involved in this today.
The largest humanitarian programme in Hungary's history is currently underway to help the country and the Ukrainian people and families,"
Ms Novak said.
"Vladimir Putin's responsibility for this war is crystal clear. From the very beginning, we Hungarians have stood against unnecessary bloodshed, pain and suffering," the president said, adding that
Hungary and Ukraine are neighbours, our neighbour can count on our help, now and in the future as well.
She expressed her hope that while 2022 was the year of war, 2023 will be the year of peace.
The participants in the programme adopted a joint declaration which also points out that since the start of the war, 10 million tonnes less agricultural produce has been sold on the world market than in the same period last year. This means that the food security of millions of people around the world is at serious risk.
The declaration states that despite the war, Ukraine is actively working with international partners to provide agricultural products to those in need. It does so in particular by supporting Somalia, Ethiopia, the Republic of Sudan, Yemen, Kenya and Nigeria, and by maintaining grain exports to Africa, Asia, Europe and the Americas.
On Sunday, President Novak visits Transcarpathia.