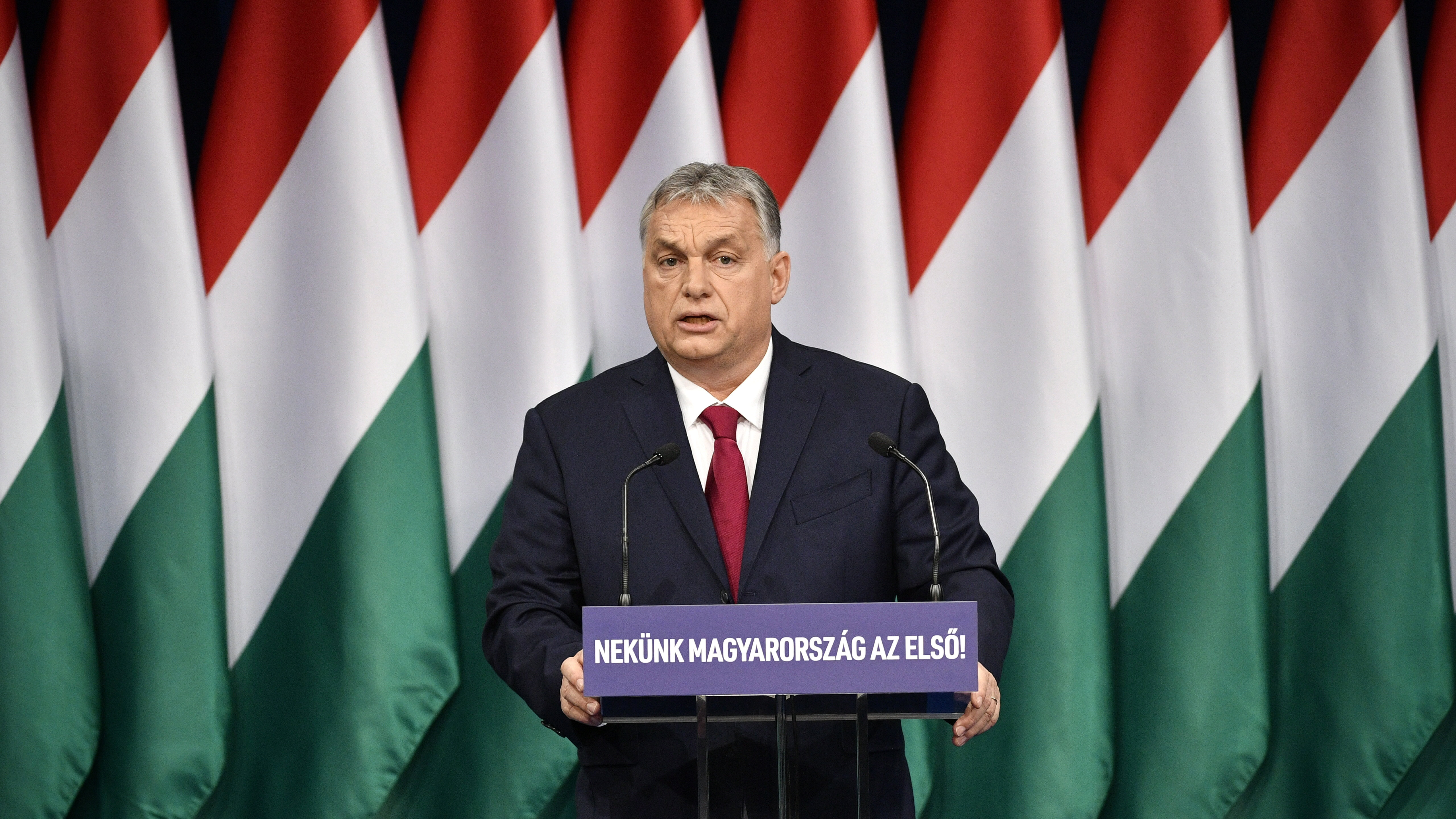 Viktor Orban: For us, Hungary comes first
Hungary first, God above all, said Hungarian Prime Minister Viktor Orban in his 22nd annual state of the nation speech in Budapest on Sunday. Mr Orban described the last 10 years as the most successful decade in the past 100 years of Hungarian history, adding that now - after the election campaigns - the period of nation-building is set to continue. The premier assessed the governance of the past 10 years and spoke about the challenges of the coming years, but he also announced details regarding the government s climate protection action plan and new national consultation designed to find out about Hungarians perceptions.
Hungarian Prime Minister Viktor Orban began his speech by stressing how lucky he was to get a chance to deliver his annual state of the nation address now and not 100 years ago – during the time of the Trianon Peace Treaty, resulting in a huge loss for Hungary. The war was just over, the losses were immense, and social peace was gone – these are the topics he could have talked about. The Trianon Peace Treaty closed and earlier chapter of Hungarian history and two-thirds of the country s territory was lost. In fact, it was a "death sentence" for Hungary, the Hungarian premier said.
Subsequently, the Central European country made arrangement to survie and it had to wait until the enemy was weakened – which eventually happened, Mr Orban said, recalling the legendary words uttered by Hungarian negotiator Apponyi, who said although Hungary s grave had been dug, Hungarians would be in attendance at their gravediggers burial.
"Today, a hundred years after the Trianon death sentence, I can tell you that we are alive and Hungary is still here," the prime minister said. He added that Hungary was not only alive but also freed from the grip of the enemy s jaw. It is able to find common ground and cooperate with its neighbours, the re-established Slovakia, Serbia, Croatia and Slovenia, and the peoples of Central Europe can build a new federal system to tackle threats from the West.
As to  how Hungary has been able to stay alive during the past one hundred years, the answer lies in a short sentence: "I believe in a homeland," Viktor Orban said.
The last 10 years were the most successful decade in the past 100 years of Hungarian history
"Ten years after one hundred years, because we also have a ten-year anniversary," Viktor Orban pointed out. "10 years ago, people put an end to the socialist nightmare and the national government took office."
Viktor Orban said the goal then had been to "prove to ourselves and to the world that we are still somebody. We thought we would either find a way or make one. And since the routes delineated by Brussels and Washington were not viable for us, we were forced to create some new paths," he said, adding that after ten years, I can say "with due modesty," that we have figured it out and made it."
The IMF has been sent home, loans have been repaid before deadline, 850,000 jobs have been created, "free living" has been stopped, finances have been put in order, workers have been respected and honored, families have been given recognition, big families have been given big recognition, national unification has been started and the Hungarian communities who were forced to live on the other side of the border have been re-joint with the motherland, he said.
The head of government also emphasized that in the economic reports published in Brussels this week, the whole of Europe reads that in 2019 the Hungarian economy seems to have grown fastest on the whole continent.
He also said that "Hungary was bankrupt by its former communist government with its liberal policy." "This example reinforces the assumption that there is no liberal. The liberal is nothing more than a graduate communist," he said, "if we had taken their advice, Hungary would now lie in a ward, the pipes of IMF and Brussels loans would hang from every limb, and George Soros would have the tap of the loans."
He said: It s no exaggeration, "having been involved in politics for over thirty years, I saw with my own eyes that George Soros tried to plunder Hungary three times." First in the early nineties, when he wanted to buy the whole public debt, then in 1994, when he wanted to aquire OTP Bank, and in 2015, when smugglers disguised as human rights NGOs brought in 100,000 migrants to Europe. At that time, the billionaire said he was willing to lend credit for relocating 1 million migrants per year to Europe.
"The facts now show that the past 10 years were the most successful decade in the history of the last 100 years in Hungary," said Viktor Orban. Explaining the achievements of the past ten years, the premier emphasized that achieving sustained growth while maintaining external and internal balance has not been seen in any other decade in the last 100 years. In addition, they did it in a way inequalities in wealth have remained moderate by European standards, which means that the benefits of growth have passed on to a broad spectrum of society, he noted.
Viktor Orban believes the key to success was that the government had not been left alone and acted along with the people. Nobody believed us, and they wouldn t have given a rap for us. The loudest ones were those who had previously bankrupted the country, he added.
Vulnerable groups such as young people, people over the age of 50, women with children, and low-skilled people have been helped to find jobs. Wages have also been on the rise with the minimum wage and guaranteed wage minimum growing twofold. The highest amount of investments of all time have been decided on in 2019, and export records were also broken last year. Concerning the latter, he noted that Hungary ranks 94th in the world in population, but 34th in exports.
"All this has been achieved by a country of ten million citizens. Is there a better evidence for talent and diligence?" he asked.
In the last 10 years, "we have also learned that Europe is not in Brussels. Europe is us, and we do not have to meet the requirements of the tired elite of Brussels. (…) We previously thought Europe was our future, but now we know that we are Europe s future," he said, today, power is radiating from the Carpathian Basin. This strength stems in the realisation that being Hungarian is good, uplifting and promising. "Our nation knows Hungary comes first," he said.
Government consults people again
In Europe, "the rights of violent criminals became more important for decision-makers than that of law-abiding citizens," "they are mocking truth, and the life-instincts of honourable citizens and perpetrators are protected instead of the victims." This dangerous phenomenon has reached Hungary and we shall expect serious debates and international challenges.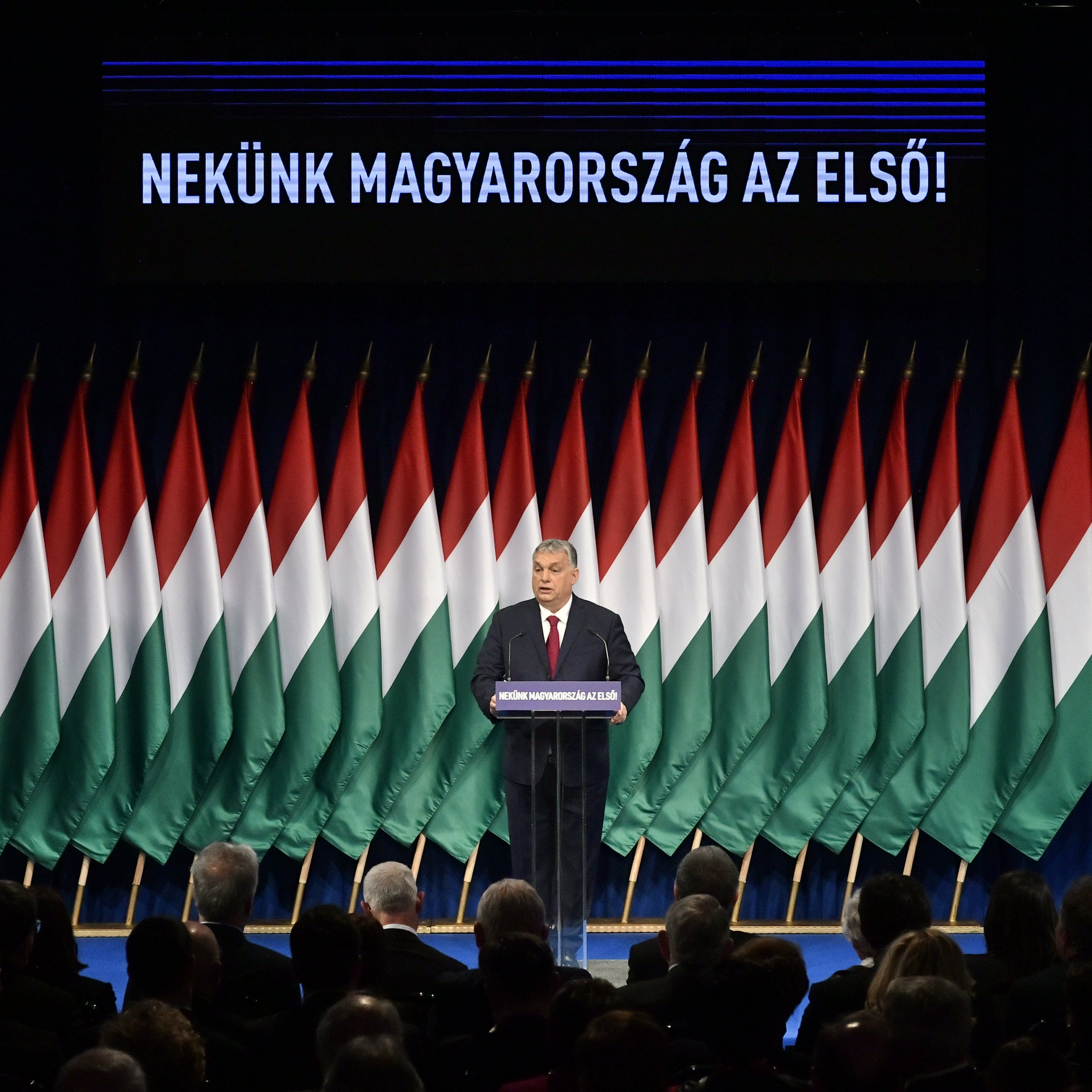 The prime minister said that they could not just stand by and watch as foreign-funded "organisations belonging to the Soros network and their hired attorneys file plenty of lawsuits by abusing legal protection."
Hungary has had eight national consultations so far on topics ranging from decreasing utility fees to family subsidies and rejecting the Soros plan. Now, the government is launching another national consultation. Viktor Orban claimed that they must do so to find common grounds for the government. 
Viktor Orban said that gipsy families in Hungary had just started a change in lifestyle. Tens of thousands started to work instead of living off benefits and to send their children to schools. This positive process was disrupted by the court ruling on the segregation case in Gyongyospata, in which George Soros was also involved, but the Hungarian government will not let itself be distracted from its goals. 
The Hungarian head of government stated that they will not allow origins to be a handicap but those cannot present an advantage either. Everybody has to work for money no matter what their origins are.
Climate protection: "let s act and not only whine!" 
The Hungarian government has approved a climate protection action plan. They created a programme which ensures that 90% of the energy produced in Hungary will be carbon dioxide-free by 2030, Viktor Orban announced. The prime minister emphasized the need for serious steps to defend what they have achieved. "The climate crisis and the demographic decline are looming, and dark shadows are  gathering over the European economy as well."
He said that "climate protection has become trendy in politics," but empty talk deteriorates the seriousness of the issue. It is time to act instead of talking, he said.
He revealed that they would begin winding up illegal landfill sites from 1 July and penalise polluters. Single-use plastics will be banned and the return of glass and plastic bottles and metal cans will be enabled, he said. The government would protect the rivers from waste coming from abroad, Viktor Orban added.
The prime minister revealed that they would take action against multinational companies operating in Hungary and order them to use environment-friendly technologies. Furthermore, the renewable energy production of small and medium-sized companies will be funded with 32 billion forints in the next two years.
Ten trees will be planted after every new-born baby and by 2030, the area of forests in the country will be increased to 27%. In the next ten years, the capacity of solar power plants will be increased to sixfold. The government will support the use of cheap electric cars and all new buses used for urban public transportation licensed from 2022 will have to be electric, he said. 
He also announced the launch of a green government bond. The government is committed to spending the revenues from the bond on climate-friendly programmes.
We have to build a country where people with children are better off than without having kids
Viktor Orban also talked about the family protection action plan introduced in July 2019 in Hungary which included car purchase subsidy and personal income tax exemption, among others. As an interesting fact, the Hungarian prime minister mentioned that prenatal baby support loan was the tenth most searched term in Google last year. Hundreds of thousands have used the support so far. Most people who used the family subsidies come from a small or large town or a village. Another element of the family protection action plan is the lifelong personal income tax exemption for mothers with four children. Mr Orban said that it should be expanded to mothers with three children as well.
The prime minister said the Hungarian government took action in the fight against infertility. They have bought several private infertility enterprises to make treatments and medicines accessible and free to all. This is crucial as even though more children are born in Hungary today than during the socialist government, only 70% of desired children come into the world.
The financial situation presents a handicap for many, and if we want a real change, we have to build a country where people with children are better off than without having kids, Viktor Orban said.
The Hungarian premier emphasized that mothers should receive the full amount of their wages instead of 70% in the first six months after the birth of their child. Furthermore, mothers should receive the same support in passing a language exam or obtaining driving licence as the youth.
Viktor Orban said that these goals were just intentions at present. Still, they are important. We have to make buckle and tongue meet but the Hungarian government will strive to move in this direction.
If there is work, there is everything
In 2020 and afterwards, we have to focus our strength on preserving jobs. Jobs must be protected and modernised as if there is work there is everything, Orban said.
The economic growth of the European economy and especially the euro-zone has stopped in recent times. However, 85% of Hungarian products are exported to these countries, so their problem is our problem, the Hungarian head of government pointed out.
In 2020 and the following years, we have to focus our strength on preserving jobs. We know that taxes have to be reduced in times like this. The government intends to decrease the tax for small enterprises and labour taxes. We will preserve the value of pensions, as we agreed with pensioners, Viktor Orban said.
He pointed out that competition in the world does not stop, but it seems that Europe intends to quit the race and limit the competition within the union in relation to taxation, jobs and services. Sometimes it feels like that "Western people have not learned from our history and do not know that socialism destroys nations," he claimed. According to the prime minister, if Hungary, its tax and social system and labour market is "regulated into the economic order of the united states of Europe," then our development will come to a halt. Therefore we should take a cautious approach on introducing the euro. "Let s not board a train the destination of which we do not know," he said.
Let s float like a butterfly and sting like a bee
"The campaigns have ended, and an era of building the country begins," Viktor Orban said about the upcoming two years. He said that they did not bury their head in the sand and they saw that the opposition was preparing for the 2022 parliamentary elections, and they would do anything to succeed. However, the prime minister said that it was more important to look after Hungary at present. Their duty is to prepare the nation for the trials of the upcoming period, he said.
Regarding the 2022 election, Mr Orban said he would heed Mohamed Ali s advice to "float like a butterfly and sting like a bee." Although stinging has been mastered, floating was still missing, he said, adding however that it too will be acquired by the election. As to the Hungarian opposition, the premier said all the world and his wife seems to be joining their ranks these days, resulting in quite avantgarde cooperations. To illustrate his point, he said: "they wear pairs of arrow cross shorts with red vests, decorated with rainbow-coloured badges." He added that it was important for people to know where they are headed, which is easy to predict from the parties policies. While performance belongs to the nation, responsibility rests with the government, so if the country is doing great everyone gets the glory, but if not, than it is surely the government s fault, Mr Orban said.
PM Orban stressed that although challenges are part of a nation s life, Hungarians deserved to live well in their homeland.
Our predecessors have sacrificed a lot during the past 100 years. We have always given more to the world than what we have received, the premier said, adding that Hungarians have fought several big battles successfully.
To stand here after such a hundred years is proof that God has plans with us, he said.
We want Hungarians to live in security and prosperity, the Hungarian premier said, concluding his speech with his traditional catch phrase: "Hungary first, God above all, let s go Hungary, let s go Hungarians."
POLITICS
Tags:
Hungary
,
speech
,
viktor orban