Leftist liberal censorship continues: social media platform suspends right-wing party's account
This is not the first time that the right-wing party has been censored, with some videos having been blocked from the channel previously. Digging into the background reveals leftist interests.
TikTok is once again trying to silence the right-wing opposition party Alternative for Germany (Alternative fur Deutschland, AfD). This time, the party's entire channel, which has more than 60,000 subscribers, was suspended by the platform. As the company has not given any grounds for the suspension, it is not known exactly what rule the AfD has violated – if any.
"This happened in the middle of Germany, where supposedly everything is in order regarding freedom of expression and fundamental rights,"
the party said in a statement, adding that "this is a massive attack on our fundamental rights." According to AfD, "the most shameful thing is that journalists who are usually keen to denounce repression in other countries are now silent."
"For an opposition party, social media are a vital part of their political work, as state radio and the establishment media rarely report on the AfD in a balanced and fair way,"
Beatrix von Storch, the party's vice chair, said.
#TikTok sperrt #AfD-Konto: Chinesische "#Meinungsfreiheit" jetzt auch in #Deutschland?

Mehr erfahren:https://t.co/Dnlu11eg7U #afd pic.twitter.com/ciTmlbPmOm

— Alternative für 🇩🇪 Deutschland (@AfD) May 12, 2022
In this context, MEP Thorsten Weiss commented on his social media page that "it's time for Elon Musk to go shopping again."
#TikTok hat ohne Angabe von Gründen den Kanal der #AfD mit 60.000 Abonnenten gelöscht. Die Zensur in den sozialen Medien greift immer weiter um sich. Es wird Zeit, dass #ElonMusk wieder einkaufen geht.

— Thorsten Weiß, MdA (@WeissAfD) May 10, 2022
Thorsten Weiss was referring to the billionaire's recent announcement of plans to acquire Twitter. Shortly afterwards, Mr Musk also outlined his short- and long-term plans, which, among other changes, include a reinstatement of freedom of expression because he believes that Twitter is too censorial. He also noted that he would reactivate the account of former US President Donald Trump. At the beginning of 2021, the platform's operators suspended Mr Trump's account – followed by more than 88 million, which was an extremely important communication channel for the president. These posts are no longer available.
Trump reacted with outrage to the suspension, saying "Twitter agents colluded with Democrats and the radical left to remove my account to silence me."
Prior to Twitter's move, two other social media platforms, Facebook and Instagram had suspended Donald Trump's accounts. Grammy-nominated singer-songwriter John Ondrasik's social media page was blocked when he performed his latest song criticising the Biden administration's flawed withdrawal from Afghanistan. Mr Ondrasik said that his aim was not to discredit the president. "If Donald Trump were president now, and he had put us in the same situation, the song would still sound the same, only the name would be different," he said.
"The United States was built on the fundamental freedom to criticise our leaders and hold them accountable. This is what separates us from the communists and our dictatorial opponents. How can we as a nation learn from our mistakes and make better decisions without honest reflection on the actions of our leaders? There is a great tradition of artists speaking their minds and asking their leaders for answers,"
Mr Ondrasik added. Social media platforms appear to censor accounts for political reasons. The accounts of typically right-wing, conservative personalities are regularly restricted, but posts may remain on the platforms in which, for example, people are encouraged to hang Donald Trump's former VP, Mike Pence.
WTF why is this allowed to trend?

I get that people have been tweeting it to quote some of the insurrectionists but it shouldn't be allowed to trend. pic.twitter.com/HTlSYnoB5y

— Yashar Ali 🐘 (@yashar) January 9, 2021
Earlier, comedian Kathy Griffin posted a picture of herself holding Trump's bloody head in her hands, but Twitter did not find the post concerning.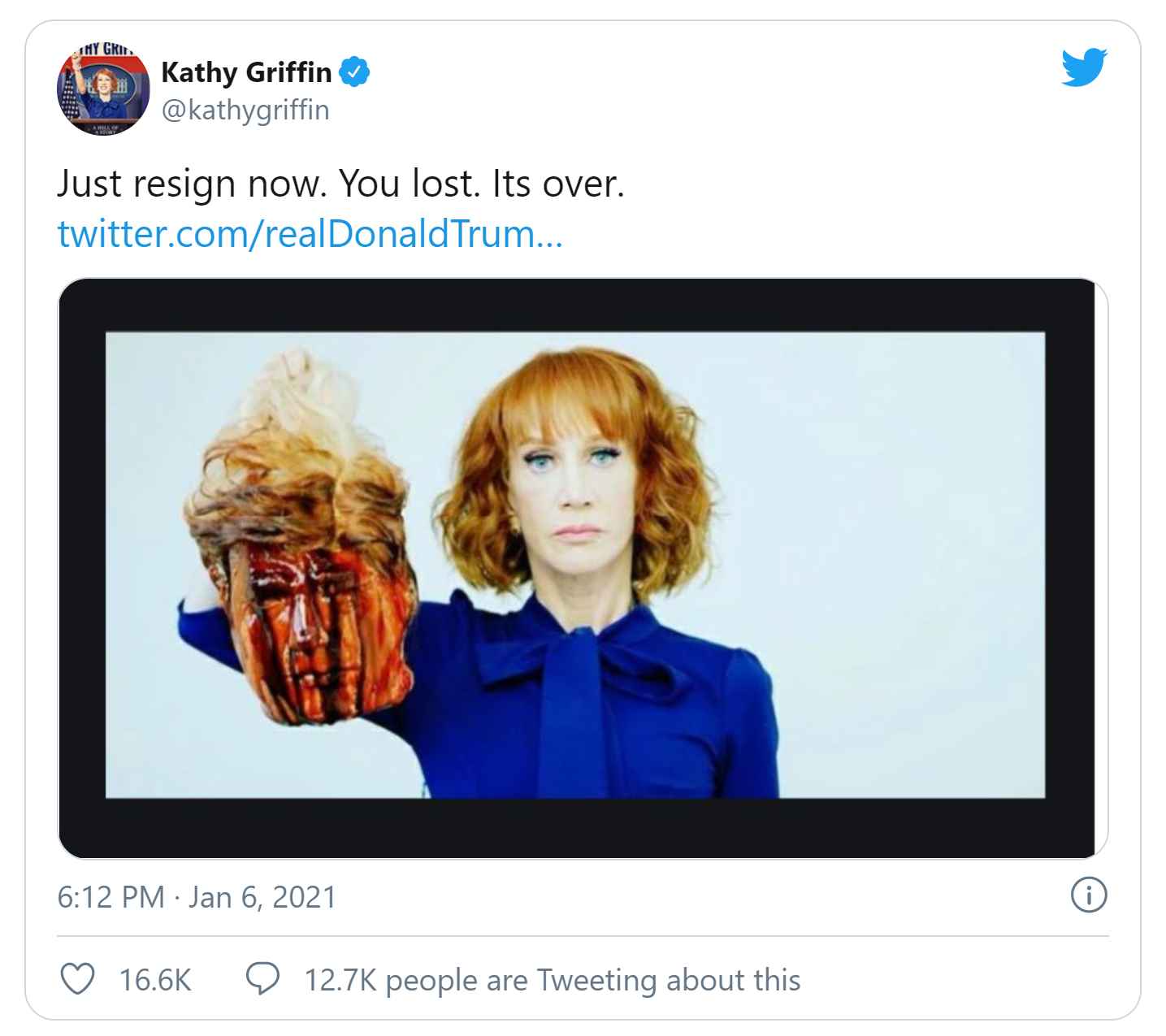 It is no wonder that after Elon Musk's announcement, Democratic politicians panicked. These lawmakers are so afraid that right-wing and conservative people will once again be free to speak their minds that they are calling for hearings on Elon Musk's plans for the social media company. They believe it is important that senators understand the direction of the moderation and possible censorship policies Musk envisions for his new company.
WORLD
Tags:
afd
,
facebook
,
instagram
,
social media censure
,
tiktok