Concert advertised with party president shot in the neck
A poster advertising a series of concerts in Bilbao, the capital of the Basque region, shows Santiago Abascal, the leader of the Spanish right-wing VOX party, with blood spurting from his neck.
A poster announcing a concert series in the Basque regional capital of Bilbao depicted VOX leader Santiago Abascal with blood spurting from his neck, The European Conservative reports. The poster appeared on social media during Semana Grande, the city's annual festival week in August. e is riding in a convertible as if in a parade, and a red stain, evocative of blood, emerges from the nape of his neck.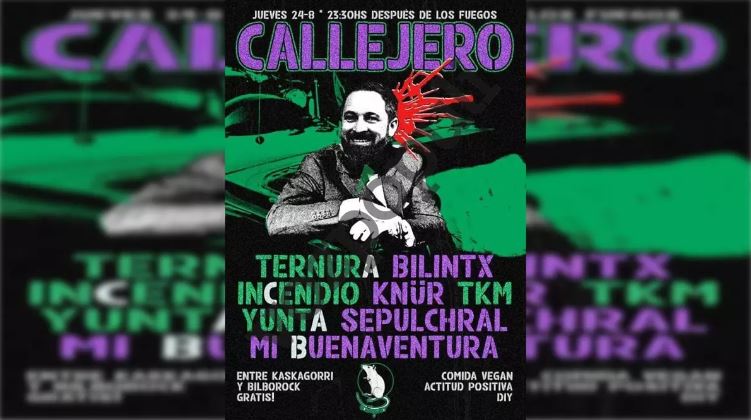 Abascal is Basque and a third-generation politician. His family received multiple threats from the Basque terrorist group ETA before it disarmed and disbanded in the early 2000s, the news portal recalls.
As typically happens, there was an alternative festival program organised outside of the official one sponsored, financed, and controlled by the city hall and often associated with radical groups, according to the Spanish newspaper Vozpopuli, which was the first to report on the menacing poster. Vozpopuli also reported that last weekend a group walked through the streets of the city, calling for amnesty for ETA prisoners.
‼ Miles de personas piden la vuelta a casa de los presos de ETA en la Semana Grande de Bilbao https://t.co/RRzA6zaxi0

— ABC.es (@abc_es) August 25, 2023
Santiago Abascal's party, Vox, filed a complaint with the court about the posters, but the court refused to suspend the events advertised on them. At the same time, it asked the authorities to investigate whether there were any events that could constitute the crime of glorifying terrorism. If so, those responsible should be arrested.
Judge Joaquin Gadea pointed out that there were "good reasons" why the poster could constitute a crime and go beyond freedom of expression.
Both Vox and Abascal condemned the poster depicting the execution of the president.
According to the party, the picture constitute the crime of threatening, inciting hatred and glorifying terrorism.
the Spanish TV network EDA TV's portal writes.
‼️ #ÚLTIMAHORA

VOX denuncia ante la Audiencia Nacional el cartel de las fiestas de Bilbao que amenaza a @Santi_ABASCAL con un tiro en la nuca.

Incurre en delito de amenazas de muerte, enaltecimiento y apología del terrorismo y odio.

📰 Nota de prensa: https://t.co/vWotJbLK0L

— VOX 🇪🇸 (@vox_es) August 24, 2023
POLITICS
Tags:
eta
,
santiago abascal
,
spain
,
vox