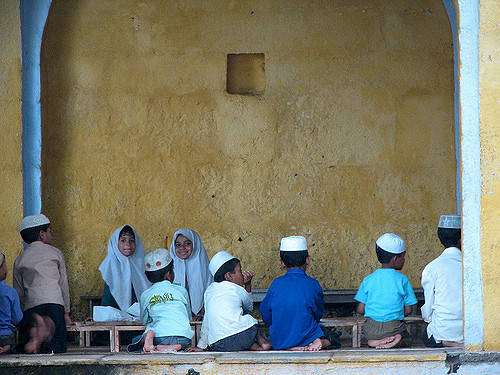 Muslim students impose their laws on others
In some schools, teachers are under increasing pressure from Muslim students, according to a fresh study. In many institutions in the capital, strict Islamic law is seen as a priority by pupils, and parents are also encouraging their children to practice their own culture.
WORLD
SEPTEMBER 5. 2023 11:24
In schools across Berlin, religious repression appears to be a widespread problem. Muslim students are trying to impose their own Islamic laws on the institutions, putting increasing pressure on both teachers and German students, who are already a minority in several places. This was highlighted by a recent survey conducted by the Association for Democracy and Diversity in Schools and Vocational Education (Verein für Demokratie und Vielfalt in Schule und beruflicher Bildung), which focused mainly on schools where more than 90 per cent of children come from Muslim families. In some institutions, fear and oppression are so widespread that the study prefers not to mention specific schools, the German weekly Preussische Allgemeine Zeitung writes.
Teachers from various schools have indicated that students of Islamic faith are demanding to be taught by educators with a Muslim background, and that they would force Germans to wear headscarves and dress like Muslims. There are schools where kids refuse to obey their teachers if they are not dressed in line with Muslim traditions. In some other institutions Muslim students simply paint over the map of Israel or tear it out from their atlases.
Children also demand the observance of Ramadan. There are schools where students do not even allow their non-Muslim classmates to drink. As a result, many schoolyards are now governed by Sharia law, based on a strict interpretation of Islam.
According to the management of one school, women and female students face increasing sexual hostility. The principal said that although two-thirds of the pupils are girls, Muslim boys oppress them and demand that they behave according to traditional Muslim values. Muslim parents are also putting increasing pressure on schools. Girls are only allowed to attend physical education classes if they wear long robes for sports. And, during Ramadan, parents often force their children to visit the toilet and pray at set times. In schools, this often leads to students leaving class during their "designated" prayer times.
Muslim immigrants have a tendency to impose their culture on others, and not just in schools. In many regions of Germany, they are calling on Germans to follow Muslim customs with banners and signs. Earlier, for example, a motorist photographed a banner on an overpass on a German motorway that read "Integrate, white woman!"
"Integrate,white woman!"
"It starts with the clothes and be mindful of the feelings of the religious minorities. Dress with respect for them."
A poster from #Germany.
What does this mean?
Don't wear a T-shirt, jeans, mini, don't let your hair unfold. And where is the end? pic.twitter.com/EcXGUGZinp

— Caution Integration (@Elbandi_) November 6, 2021
WORLD
Tags:
bavaria
,
germany
,
muslims
,
school