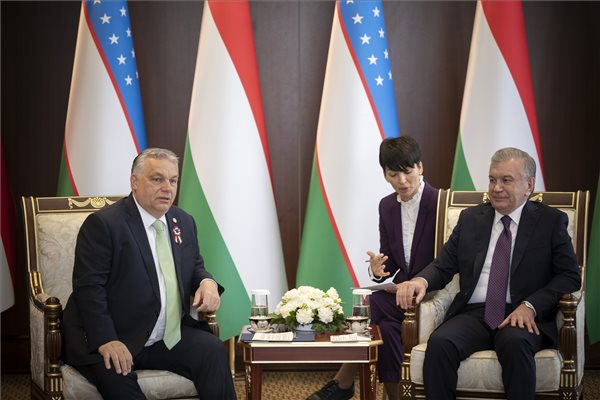 Even in dangerous times, Hungary-Uzbekistan relations continue to develop
On Thursday morning, Hungarian Prime Minister Viktor Orban held talks with Uzbek President Savkat Mirziyoyev in Ankara, where an extraordinary summit of the Organization of Turkic States is being held today.
At the meeting, the parties were pleased to note that the friendship between Hungarians and Uzbekistanis has now been institutionalised and that the implementation of the agreements concluded earlier is proceeding smoothly. They welcomed the fact that Hungary's OTP Bank is now also active in the Uzbek banking sector, which opens the way for a much broader Hungary-Uzbekistan economic cooperation.
They considered it important to launch direct flights between Budapest and Tashkent as soon as possible. The war in Ukraine and the sanctions crisis were also topics at the meeting. We are living in difficult and dangerous times, which severely impacts both states, the partners said.
Global realignments only make the need for a ceasefire and peace all the more urgent. Hungary and Uzbekistan also have to join forces, and the political and economic rapprochement between Europe and Central Asia should simultaneously also be accelerated,
said Bertalan Havasi, the prime minister's press chief, summarising the meeting.