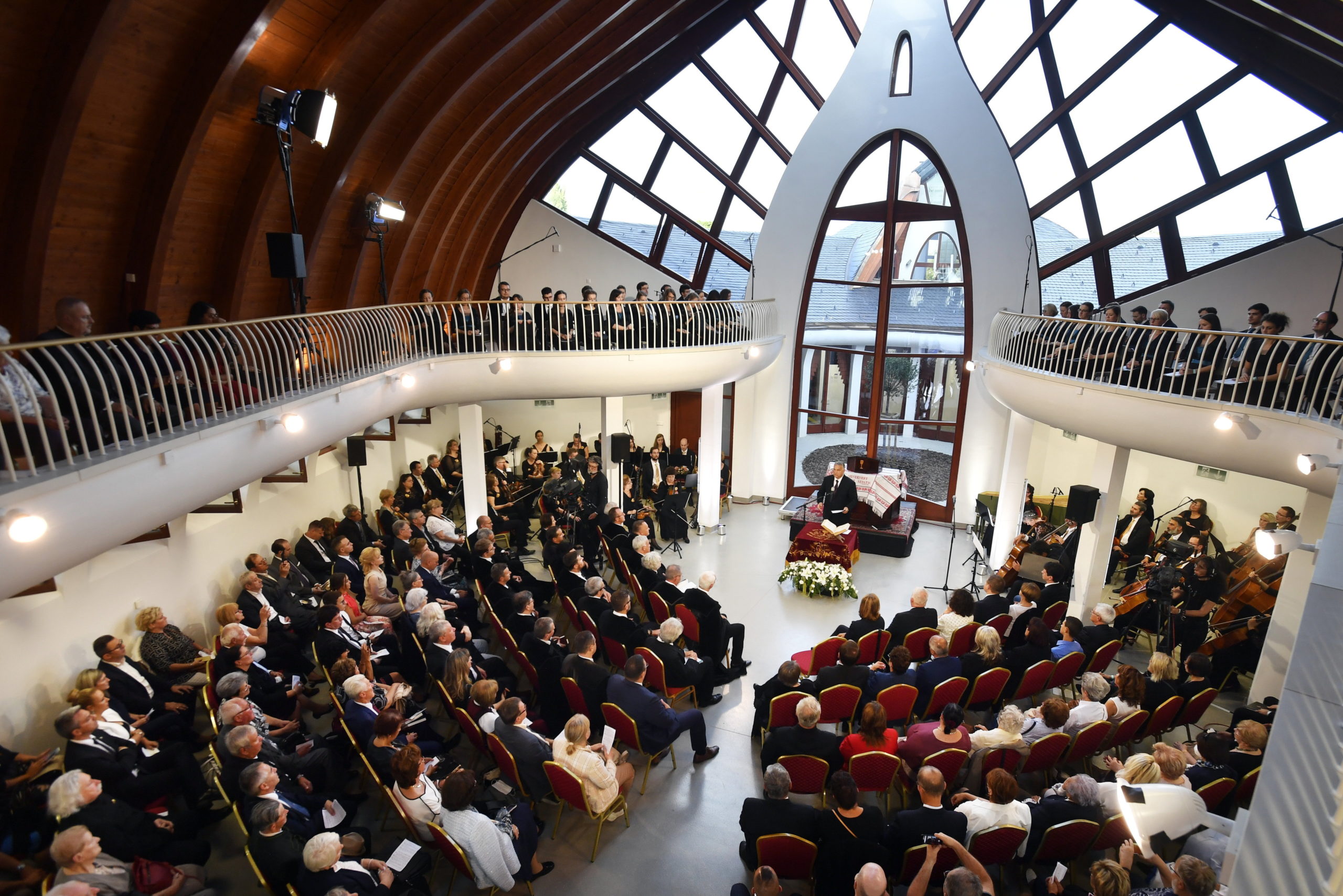 PM Orban: Every new church is a bastion in the struggle for freedom and greatness
Hungarians can only survive as Christians and each new church represents a bastion in the struggle for the freedom and greatness of the nation, Prime Minister Viktor Orban said on Sunday at the consecration of the Reformed Church of Cohesion, in the 20th district of Budapest.
In his greeting at the festive service, PM Orban underlined that "we, Hungarians have been a church-building nation for a thousand years" and at the time of St. Stephen [first king of Hungary at the turn of 10-11th-century], many other nations could say that about themselves. However, "we are now living in different times, with fewer and fewer nations building churches in Europe." Prime Minister Orban said. He added that
today, Western Europe is in a "phase of losing its cultural roots and balance". The great historical role and mission that Christian European civilization has played over the past 500 years is now weakening and disintegrating, adding that Europe has given up its sense of mission, its cultural and intellectual heritage, and has simply thrown away its future.
"This is when I think back on how many times they wanted to make us catch up with the nations where churches aren't being built any more, only mosques," he remarked.
At the same time, he stressed that Hungarians do not want to "deviate from or drift off" the path they have been following for a thousand years, but this is only possible if they realise that the state and the church communities must work together.
He reminded those in attendance that this cooperation is also sanctified by (Hungary's) Fundamental Law, when it states that the protection of Hungary's constitutional identity and Christian culture is the duty of all institutions of the state. In a Christian-based democracy, the state has the duty to take responsibility for traditional communities, starting from the family through congregations to the nation, he said. Mr Orban underlined:
"Our history teaches us that Hungarians can only survive as Christians. A country with borders, but a boundless soul: this is Hungary. We are not only a nation of church-builders, but we have to be a nation of church-builders to survive. Every new church is a bulwark in the struggle for the freedom and greatness of the nation."
This is why, since 2010, 150 churches have been built and over three thousand churches have been renovated in Hungary and in regions of the Carpathian Basin with ethnic Hungarian communities. Mr Orban said "this has been a "strong week" for Hungarian Calvinists, as last Sunday a Calvinist kindergarten was inaugurated in Budapest's Svabhegy neighbourhood, on Saturday, a university was founded in the Calvinist stronghold of (the city of) Sarospatak, and today a church was inaugurated. A church is a sign that we trust in God and therefore look to the future with faith. Our churches are lighthouses, and when a new one is built, the light in the world grows, he stressed.
Hungary's premier praised special psychologist Emoke Bagdy, who has made the largest private donation, for her role in the construction of the new church. He spoke of architect Imre Makovecz who, he said, "had dreamt of the church in the autumn of his life," as well as of Tamas Dosa-Papp, who continued with and drew up his master's plans. PM Orban also praised the strength of the local community because, he said, the building is also a harbinger of the existence of a Calvinist congregation n Pesterzsebet (Budapest's 20th district) that believes in its own future.
CULTURE
Tags:
church
,
Hungary
,
viktor orban