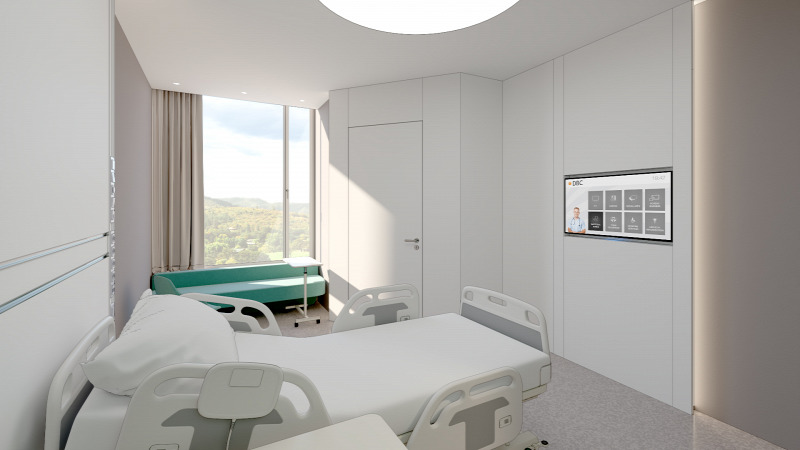 Sexual violence and abuse in hospitals
Dozens of rapes and sexual assaults happen weekly in UK hospitals, according to a recent report. Official data reveal a shocking number of abuses: 6,500 reported attacks in hospitals in just three years. Hospitals in Germany and France are also struggling with violence – albeit for different reasons.
"Hospitals are places where everyone – patients, staff and visitors – should feel completely safe. But rapes and violent assaults are taking place every week in hospitals," said Heather Binning, founder of the Women's Rights Network (WRN). The organisation fighting for women's rights published its report recently, revealing that dozens of rapes and sexual assaults take place in British hospitals every week.
These crimes include gang rapes and assaults on children.
"The figures show hospitals are just not safe places. They are almost a market for sexual offenders. It's absolutely terrifying," Ms Binning said.
The figures are based on freedom of information requests to police forces in England and Wales. The report reveals that
at least 2,088 rapes and 4,451 sexual assaults were reported between January 2019 and October 2022 – a rate of 33 a week.
The data does not detail whether the offences were carried out at NHS or private facilities. But a shocking one in seven took place on hospital wards. Just 4.1 per cent of the crimes resulted in the suspect facing a charge or summons.
Ms Binning claimed this "added to the horror" and showed hospitals and police forces were failing to protect the vulnerable.
"The police are not doing enough in terms of recording the crimes properly and pursuing them – these are places with CCTV and restricted access. Why is the charge rate so low?" she asked.
The WRN is calling on the NHS and police to acknowledge this "hidden domain of sexual violence".
"These statistics are jaw-dropping. We began this investigation because of concerns about the safety of women and children on NHS wards, but we are horrified at what we have uncovered," the founder of WRN said.
Violence in hospitals also exists in France and Germany
In Germany, ambulance crew and emergency department staff have to face growing violence, Felix Walcher, an emergency physician from Magdeburg, told the Berliner Morgenpost
Emergency department staff report a rising number of verbal attacks and harassment, with actual physical abuse also becoming more common recently. The tension in all areas of the healthcare system has increased significantly, said Mr Walcher, the president of the German Interdisciplinary Association for Intensive Care and Emergency Medicine (DIVI).
The doctors' experience coincides with the findings of a new nationwide survey by the German Hospital Federation (DKG).
"Nine out of ten hospitals have had experience of violence against their staff in the emergency departments," said Gerald Gass, head of DKG, summarising the findings. 48 per cent of the hospitals have had to alert their security service due to incidents.
The situation has worsened in recent years, partly due to the pandemic, as shown by the data.
This is everyday experience in the emergency wards when time pressure, staff shortages and the fears and worries of patients and their families collide, Mr Gass said, underlining that it is intolerable that people who want to help others and save their lives are attacked and threatened.
Mr Walcher described this as a "spiral of stress". Stress in emergency rooms is exacerbated by growing staff shortages, the head of DIVI noted.
As previously reported by V4NA, workforce shortage also causes serious problems in children's clinics.
Health workers in children's hospitals have become the targets of a growing number of attacks, Gerda Hasselfeldt, president of the German Red Cross (DRK) told the German press recently.
"There's an increasing number of threats or actual cases of psychological and physical violence against health workers,"
Ms Hasselfeldt complained. She emphasized that the problem is manifold. A major factor is that many doctors and even more nurses are missing from hospitals, and those who remain often fall ill due to overwork. Consequently, staff that could be relied on are often absent for weeks in Germany.
Due to labour shortages and time pressure, parents' involvement is "only insufficiently possible, leading to loss of information, accumulation of complaints and growing tensions on all sides," Ms Hasselfeldt explained. Parents with sick children, however, can also be understood. Sometimes they have to sit in emergency rooms for hours on end waiting for their children to be treated, and it is also not uncommon for sick children to spend the night in hospital corridors because there are not enough beds and staff.
The situation is similar in France, where 37 per cent of health professionals working in public hospitals said they were victims of violence in 2022. According to the National Observatory of Violence in Health Care (ONVS), staff in emergency, psychiatry and geriatrics wards are the most exposed to violence from patients.
A nurse who has worked in the emergency department in Saint-Nazaire for fifteen years said that she regularly faces insults and threats. "What happens to us most frequently is people speaking in an aggressive tone and blaming us for the hospital not performing or not fully meeting expectations." The nurse can also recall situations when she was frightened because patients or their relatives came physically close to her in a threatening manner, Radio France writes. Another nurse said she understood this violence without excusing those who resort to it. "It is the system that mistreats them," she said, because this violence is generated by waiting times and a lack of information in particular. This violence is the consequence of a deeper problem: lack of resources at the hospital.
Agnes Ricard-Ribond, spokeswoman for the French Society of Emergency Medicine, also shares this opinion. "There is a problem with access to care due to a shortage of doctors, both in the city and in the hospital," she says. "There are long waiting times because we are losing hospital staff," she adds, pointing out that those staying are getting rather discouraged.
WORLD
Tags:
france
,
germany
,
hospital
,
uk
,
violence