Thieving Left in Brussels refuses to disclose Qatar ties
The European Parliament, engulfed by the biggest corruption scandal in its history for weeks now, voted on a resolution in December. Leftist-liberal and green party MEPs, however, refused to include a full transparency requirement in the document, presumably because quite a few politicians have some shady dealings to hide.
Inconceivable amounts of money landing in leftists' pockets
Brusselites and the leftist-liberal majority in the European Parliament are usually rather vocal when it comes to demanding transparency. However, leftist, liberal and green party MEPs fiercely protest when it comes to passing a resolution on real corruption. This is what happened once again in December amidst the biggest and most shocking corruption scandal evolving in the history of the European Union. The European Parliament had to take a clear-cut position, given the fact that the avalanche was triggered by the downfall of one of its vice-presidents, Eva Kaili. As it turned out, huge lumps of money were lining the pockets of left-wingers in Brussels. As far as known today Qatar managed to buy off a good number of MEPs in exchange for voting on decisions that fell in line with Qatar's interests. Belgian authorities arrested Ms Kaili on 9 December, and the Brusselites' corrupt system appears to be crumbling like a castle of sand.
As V4NA learnt from its source in Brussels, up to a hundred MEPs could be embroiled in the corruption scandal. Although it is unclear who is involved and how deeply, there are numerous signs indicating that the leftist-liberal MEPs are covering for each other. In mid-December, the parliament's resolution was debated, with the Identity and Democracy group calling on all MEPs to immediately disclose
any ties to or benefits from Qatar or the NGOs involved, as well as past meetings with representatives and officials of Qatar.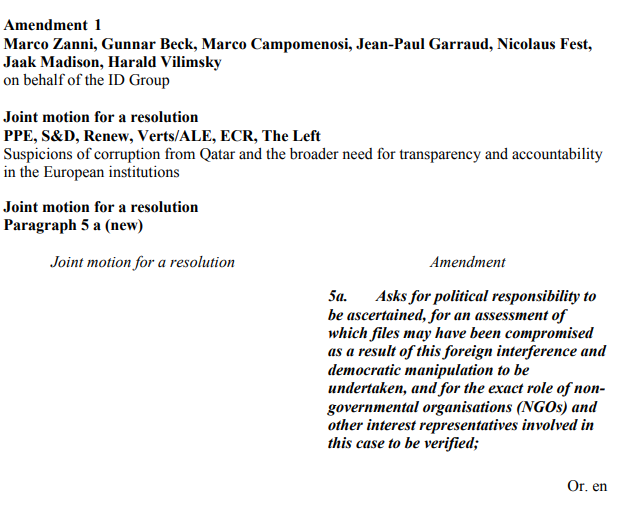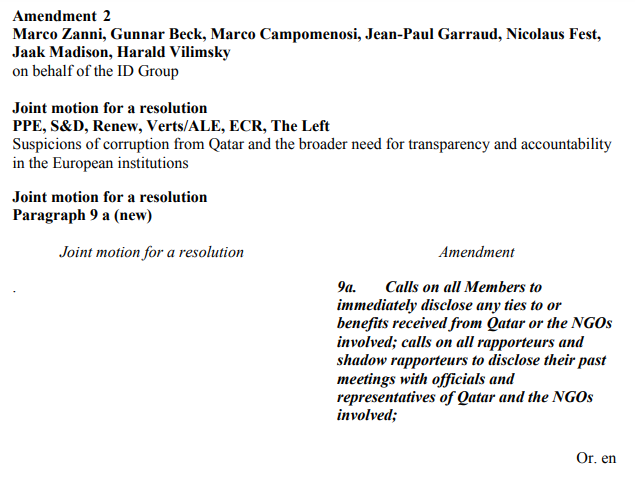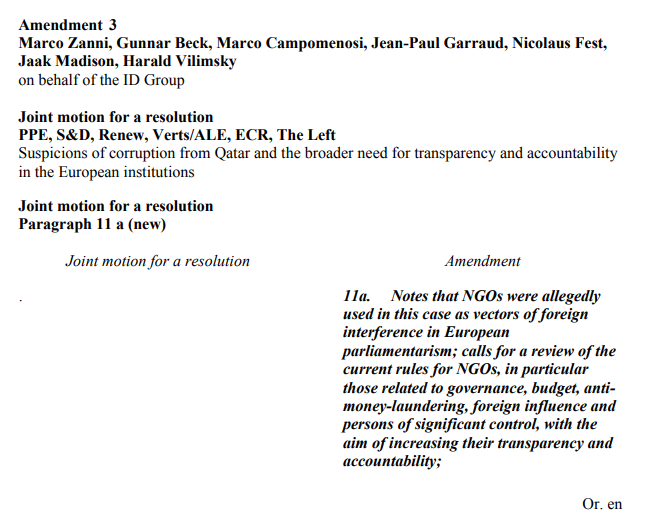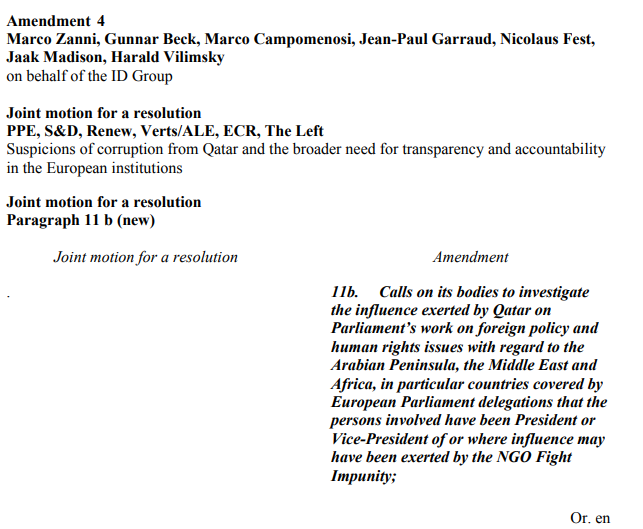 However, the motion was not adopted. Only 204 MEPs voted in favour of greater transparency, while 326 voted against it. For example, the German left, with countless corruption scandals swirling around them at home, voted 'no'. Green politicians, with Europe's recent scandals revolving around them as a group representing "modern corruption", also voted against strict transparency.
Hungarian leftist-liberal MEPs, those vocal champions of transparency, were also reluctant to shed light on their dearly guarded secrets. A 'no' vote was cast by Katalin Cseh, who is deeply entangled in a scandal that erupted after authorities launched an investigation into budgetary fraud in connection with a network of companies with ties to the MEP. Likewise, leftist Istvan Ujhelyi, Csaba Molnar and Sandor Ronai also voted against greater transparency. With his abstention, liberal Guy Verhofstadt, a true veteran in the history book of scandals, also voted down the proposal.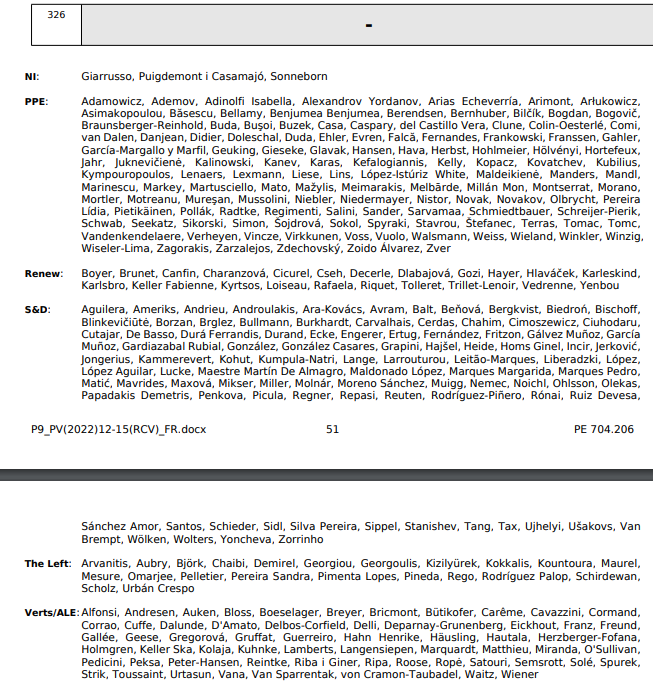 According to V4NA's source in Brussels, average European taxpayers rightly raise the question as to what secrets these politicians, who make up almost half of the EP, could be in possession of. Their behaviour and reactions suggest that a foreign country could have managed to buy off and colonise an entire continent. However, Qatar was not the only country that attempted to buy its way into the EU's decision-making system. V4NA reported on an event in Morocco that raised a serious suspicion regarding Guy Verhofstadt's involvement in the corruption case. Not very long ago, in 2018, Guy Verhofstadt enjoyed Morocco's hospitality and perhaps by no coincidence, in the company of left-wing MEP Eva "Qatargate" Kaili, as evidenced by a photo taken at a conference.
#KasbahTamadot: 1st panel of Day 1 – Re-Imagining Institutions @TomicahTD @NewAmerica @EvaKaili Jim Newsome Jason Weinstein Annette Nazareth Guy Verhofstadt #BlockchainSummit @BitfuryGeorge @ACTAIglobal @richardbranson pic.twitter.com/3j7fyRM5Em

— Sandra Ro (@srolondon) July 8, 2018
At these meetings, the big shots of so-called blockchain technology – first developed for cryptocurrencies – bring together various companies, government agencies and start-ups to discuss the most pressing issues of innovation, economic growth and the development of blockchain and digital technologies.
As expected, these meetings are also attended by lobbyists from the tech world.
By the way, Morocco is regarded as a country with high corruption rates. Transparency International gave rather poor scores to Morocco between 2012 and 2019, effectively putting the African country in the second worst corruption category.
Will leftist-liberal politicians sell anything or betray anyone for luxury?
This is how wealthy countries colonise the European Union, thanks to the leftist-liberals' hunger for money. Speaking of money: Brusselites know very well what to spend the unfathomable amount of money they get from various sources. The aforementioned Eva "Katargate" Kaili, for example, also dealt in real estate. As V4NA recently reported, the politician suspected of corruption likes to live in luxurious conditions, like other Brusselites. Guy Verhofstadt's close acquaintance owns a number of luxury real properties in Greece, which she acquired at suspiciously low prices and then sold some at much higher prices. She managed to sell those well, although the value of properties in the given neighbourhoods had actually dropped compared to the time of purchase.
Ms Kaili's case is not unique, with other Brusselites having also tried to make gains from their above-the-average benefits and influence on the real estate market. As also reported by V4NA, Mariya Gabriel, Bulgarian EC commissioner, was also embroiled in a corruption scandal after she signed a property rental agreement in October 2010. The Bulgarian anti-corruption committee launched an investigation into the EC commissioner for innovation, research, culture, education and youth after it came to light that
The politician was renting a municipal flat at well below the market price, for 400 Bulgarian levs (equivalent of 204 euros).
Albeit with great difficulty, the proceedings against Ms Gabriel were hushed up and quietly dismissed in the end. Worthy of note is the fact that the Bulgarian EC commissioner's name appears on the list of "reliable allies" compiled by the Open Society Foundations of George Soros's Empire.
Manfred Weber, who aspired to become president of the European Commission, also increased his wealth through a shady property rental. By exploiting loopholes and using tricks and cunning means, he managed to amass at least 400,000 euros.
The jockeying EPP politician declared his own family house as the party s office to keep hold of this amount. MEPs receive this general reimbursement each month primarily for running a formal office, as set out in the guidelines. They are not accountable for the expenditures, no bills have to be presented, and Weber saw a great opportunity in this loophole.
His house is located in a small Lower Bavarian village, Wildenberg, at the back of beyond, where he is a habitual resident. He designated the ground floor of the building to be his office, in an obvious effort to retain the money he should be spending on renting an office. The fact that his village is so far away from large cities that voters cannot easily visit their beloved representative, did not matter.
In Wildenberg, V4NA's journalists saw with their own eyes that Weber did not even bother to put up a sign, stating that the house is his representative office.
The unspent rental cost amounted to 387 thousand euros, which the politician could easily use to cover his house's total utilities expenses, as Brussels never required any invoices.
Previously, V4NA reported several times how liberal MEP Guy Verhofstadt, known for his extravagant life style, "saved money" when he had his own house renovated. As it turned out, the liberal politician cut his own expenses by receiving hundreds of thousands of euros in public monies for the renovation.
The politician and his family bought the listed building – in which he still lives – in 2011 for one and a half million euros, together with two other families, press reports suggest. According to an article by Knack, in 2012,
the cost of the renovation of the Verhofstadt residence was estimated at around 820,000 euros, but almost half of this was paid for by Belgian taxpayers.
For the renovation, the former prime minister has received substantial funding from the Flemish government, the province of East Flanders and the city of Ghent, totalling 327,784 euros, the Knack news portal writes. The hundreds of thousands of euros in subsidies were met with outrage and backlash at a time when the government was making changes to energy-saving measures. This means that people no longer received the same tax relief for certain housing improvements and upgrading investments as before, making construction or renovation significantly more expensive.
The list of EU politicians who boast luxury properties doesn't end there. Swedish-born Home Affairs Commissioner Ylva Johansson also lives a posh life compared to the average European citizen. Her assets declaration shows that she is not one of the most wealthy commissioners. However, she used to live in one of the most beautiful areas of Stockholm, on the banks of the Riddarfjarden River, and after a sham divorce from her husband, presumably for political and economic reasons, she moved to a villa with its own marina on the outskirts of Stockholm.